Smile, Crocodile, Smile Me Book
The Me Book version of Smile, Crocodile, Smile is out today. I love the simplicity of the Me Books concept. The app lets you create personal editions of  popular picture books. Each one comes with prerecorded narration and sound effects. One of my favourite Me Books is The Lonely Beast, which has hilarious voice recordings. And the best bit about Me Books is making your own recordings. You draw a shape with your finger to create a hot spot, then tap it and  record your own voice.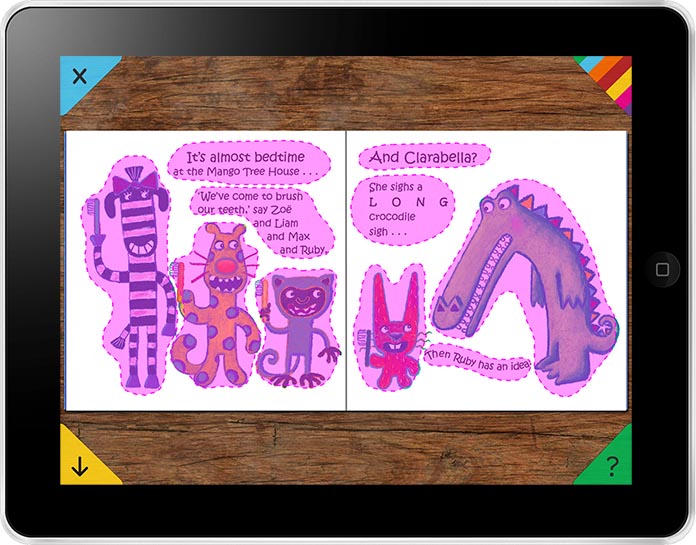 Smile, Crocodile, Smile is my favourite picture book and one I always include in story sessions at school visits. It tells the story of Clarabella Crocodile who lives in the Mango Tree house. Clarabella has a dental dilemma:  play with her friends or brush her teeth? Clarabella has a lot of teeth, so it takes her a long time to brush them all…
The Me Books people are a lovely bunch to work with. I was involved at each stage of the production. First the 'asides' needed to be written. These are extra bits of dialogue for the characters. Post-it notes came in really handy at this stage.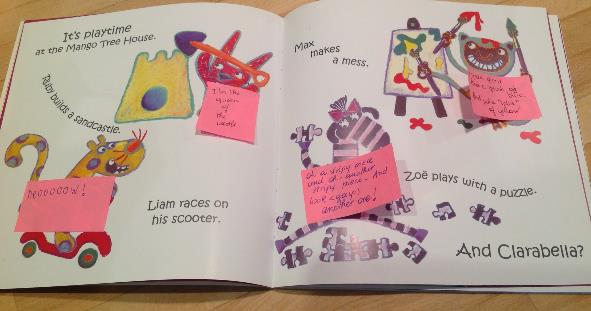 Next, Me Books sent me a link to demo reels of voice actors they had previously worked with. The voices were all excellent, but none were quite right for Smile Croc, so Harry at Me Books kept on looking until she discovered actress Jo Martin.
I brought my well-traveled crocodile toothbrush with me to the voice recording to get everyone in the mood. Jo did a fantastic job. She had us all (Helen from OUP, Will from Me Books and me) in stitches!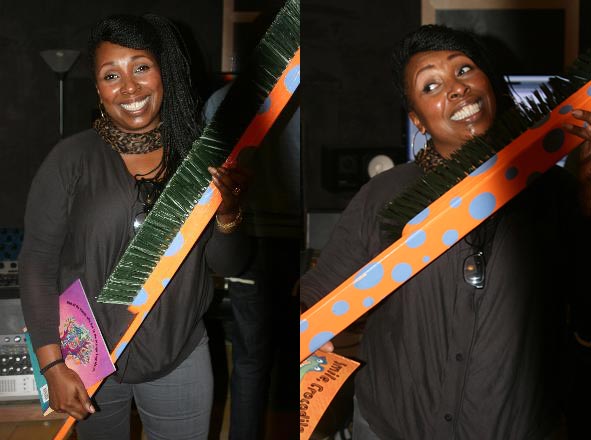 We even recorded voices for  the bugs on the end papers.
Later in the Me Books Studio, Will recorded this little  interview of me:
I am really pleased that Smile, Crocodile, Smile is now available to enjoy in digital format.  Can't wait to test it  at my next school visit!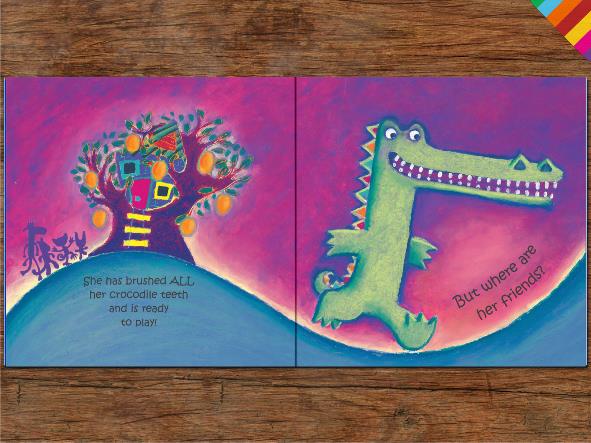 Me Books and Smile, Crocodile Smile are available from the  iTunes app store. First download the free Me Books app, then you can purchase books by tapping on the Shop icon in the app.
Smile, Crocodile, Smile is also available as a paperback picture book published by Oxford University Press. In the US it is published as Clarabella Crocodile by Clarion Books.
Many thanks to Harry and Will at Me Books!