Storytelling and 3D printed crocodiles
I did a half term story-telling  and craft event with MyMinifactory at the iMakr 3D printing shop near Farringdon.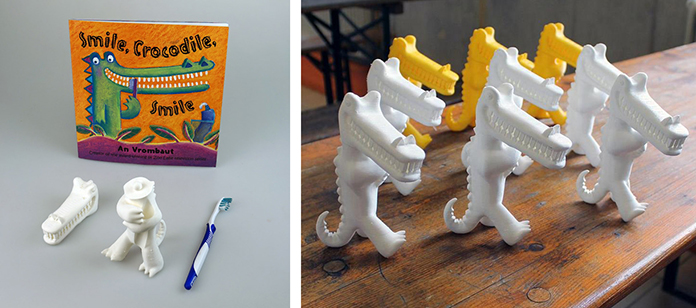 When I arrived at  iMakr  I was greeted by an army of 3D-printed Clarabella Crocodiles lined up  and ready for painting.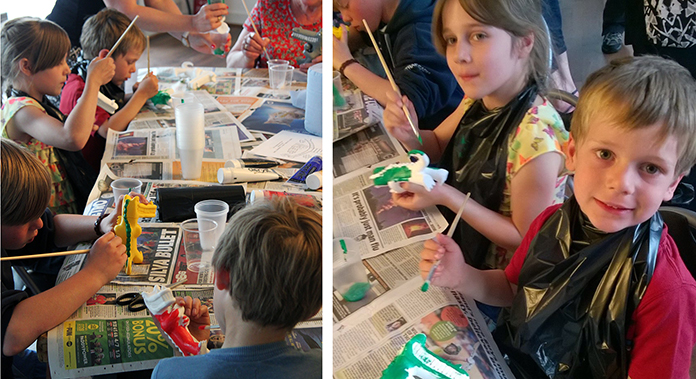 Each child was given their own Clarabella Crocodile to decorate with acrylic paints.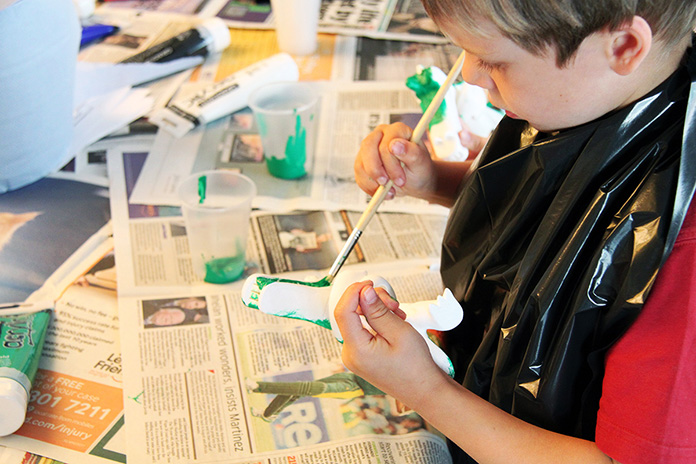 We used  bin-bag aprons. Très chic!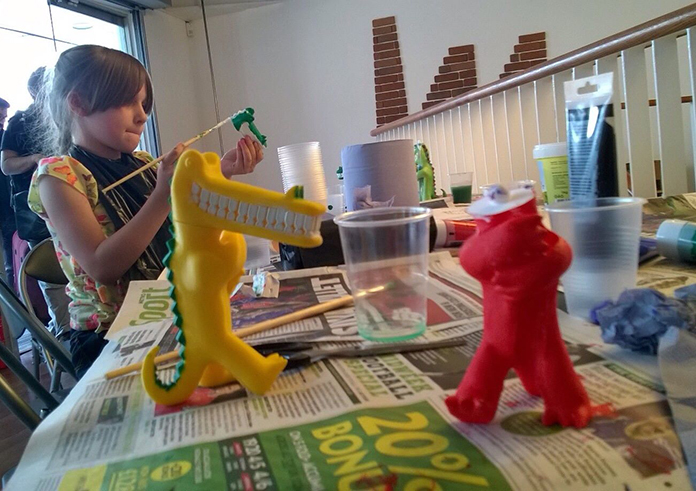 Extreme concentration required.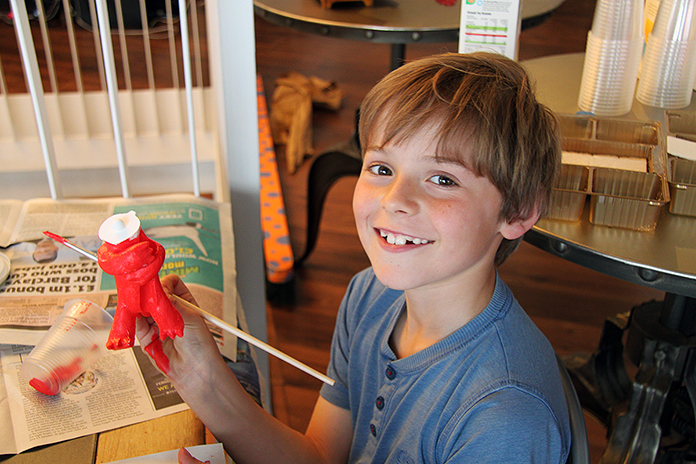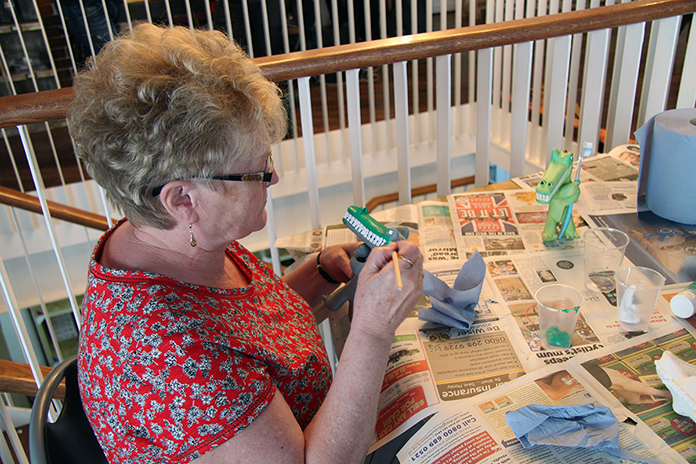 Even the grannies got busy painting.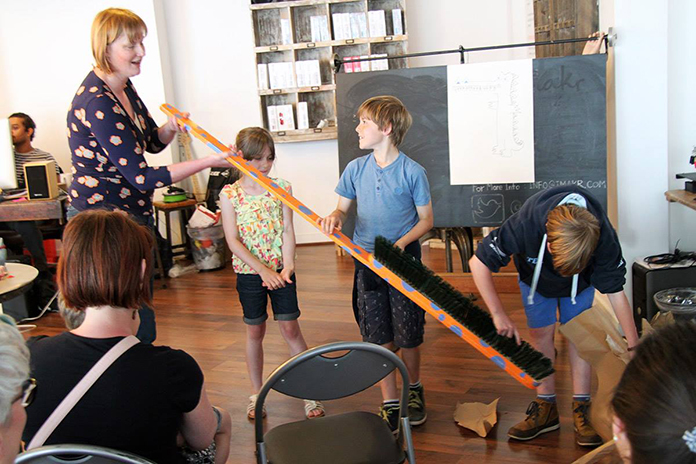 Life-sized crocodile toothbrush at the story-telling session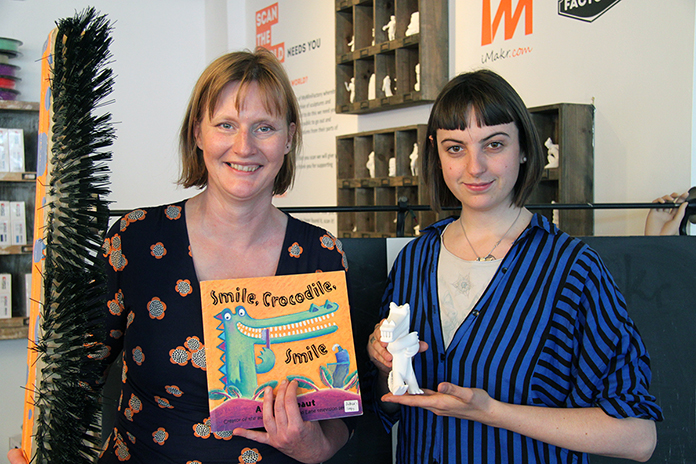 With Eva Sbaraini, designer at MyMiniFactory who came up with the idea of a Clarabella Crocodile toothbrushholder and built the model. More about my collaboration with Eva and MyMiniFactory.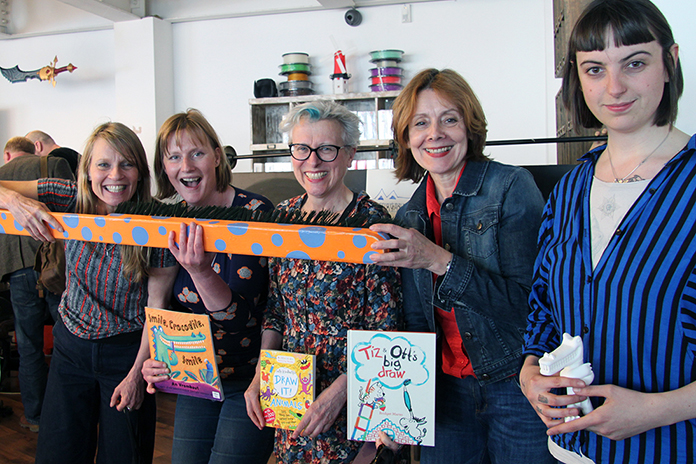 The iMakr shop is just around the corner from the Courtyard Studio so fellow Courtyarders Karin Littlewood, Sally Kindberg and Bridget Marzo popped by! Bridget and Sally couldn't resist showing off their new books :).
My book 'Smile, Crocodile, Smile' is available as a paperback or as a digital MeBook.
Clarabella Crocodile 3D printable
UPDATE: Free event featuring the 3D printable Clarabella Crocodile character! Come to the iMakr store in Farringdon on Wednesday 27th May for story time and craft activities. You can even paint your own Clarabella 3D printed toothbrush holder.  More info and bookings
Do you have a child? Do they have teeth? Great!
Introducing Clarabella Crocodile, picture book
star and toothbrush holder extraordinaire.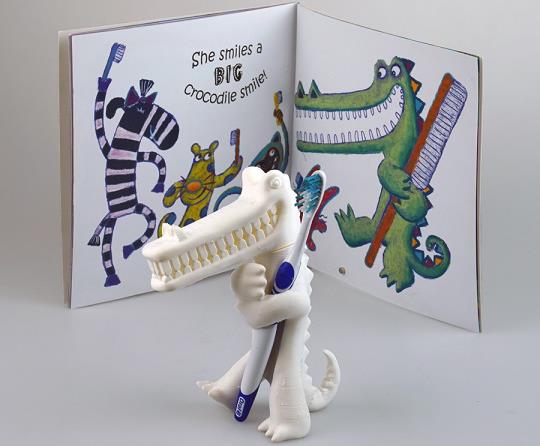 In one of those serendipitous Twitter coming-togethers, Eva Sbaraini contacted me to  ask if I'd be interested in collaborating on a project to create 3D prints from my book
characters. Eva works as a designer for MyMinifactory, a curated 3D object download platform which gives its users free access to thousands of 3D printable files created by talented  designers. Eva and I  met in a coffee shop and discussed various ideas, including making tactile 3D prints for blind children along the lines of her other project based on  The Little Prince.
Eva went away with a stack of my picture books
 and came up with the idea of creating a toothbrush holder based on the Clarabella Crocodile character from  'Smile, Crocodile, Smile.'
She used one of my illustrations as a starting point for the design. Here you can see some work in progress: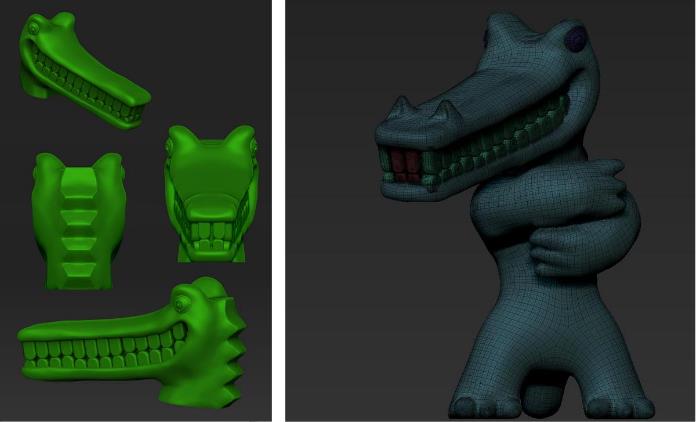 I drew over the images so Eva could make adjustments.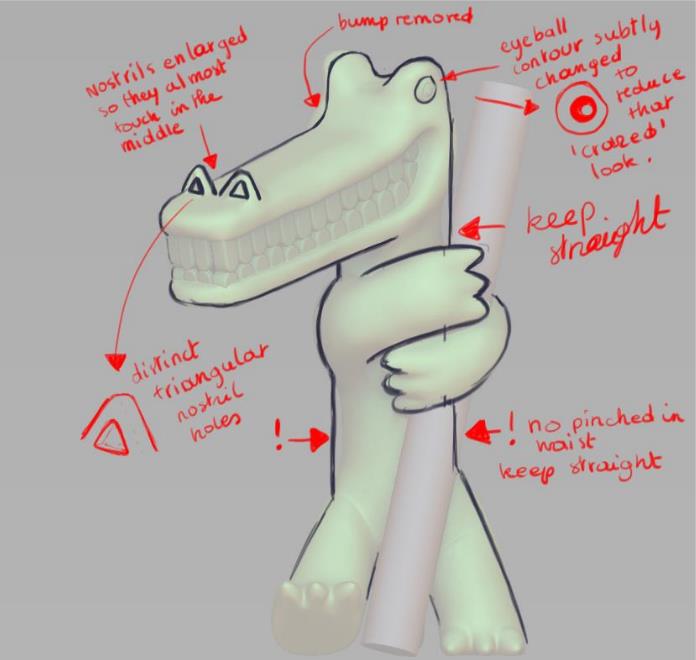 A 3D printer was loaded with a spool of plastic to print the character. Watch this video to find out how 3D printing works:
The two part croc was cleverly designed to print support-free on a standard desktop 3D printer – the kind more and more commonly used by schools as well as  early adopters already using 3D printers at home. The design features a rotatable head and space to hold a toothbrush, making it suitable for both bathroom and toy box.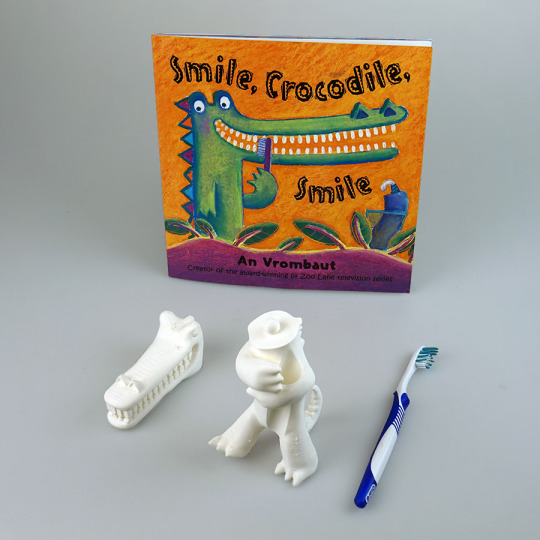 I
I decided to give Clarabella some colour using my acrylic paints.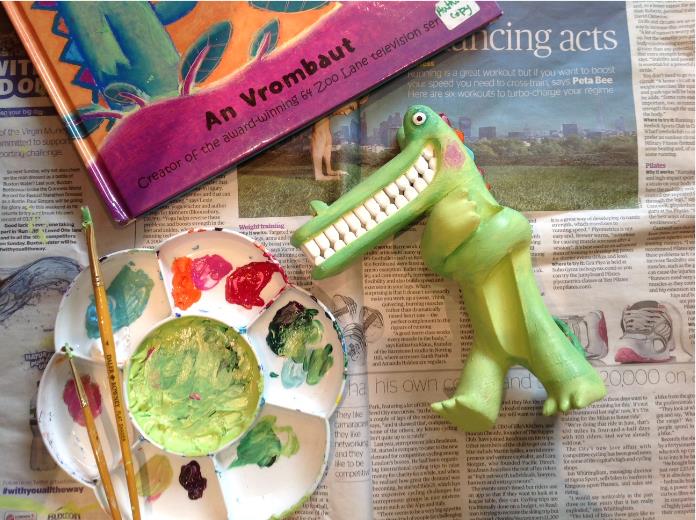 And here she is: all finished and proudly holding her crocodile toothbrush!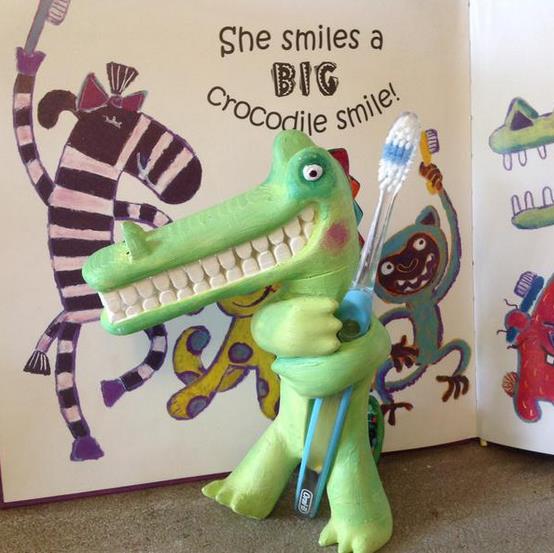 You can print your own Clarabella toothbrush holder by accessing the file on MyMinifactory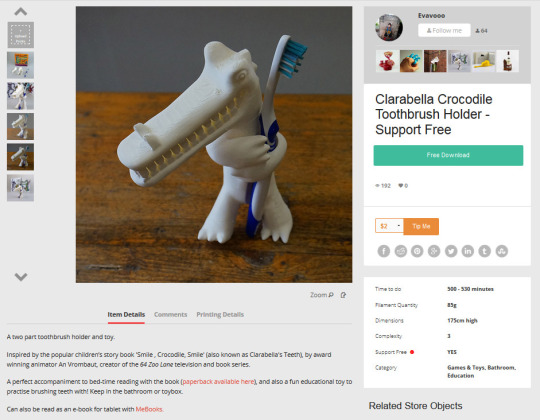 And of course, don't  forget to read the 'Smile, Crocodile,Smile' picture book to your children to encourage them to brush their teeth with crocodilian enthusiasm! It's available as a paperback or digitally as a MeBook.
Many thanks to Eva. It has been fun working on this project together 🙂
Smile, Crocodile, Smile Me Book
The Me Book version of Smile, Crocodile, Smile is out today. I love the simplicity of the Me Books concept. The app lets you create personal editions of  popular picture books. Each one comes with prerecorded narration and sound effects. One of my favourite Me Books is The Lonely Beast, which has hilarious voice recordings. And the best bit about Me Books is making your own recordings. You draw a shape with your finger to create a hot spot, then tap it and  record your own voice.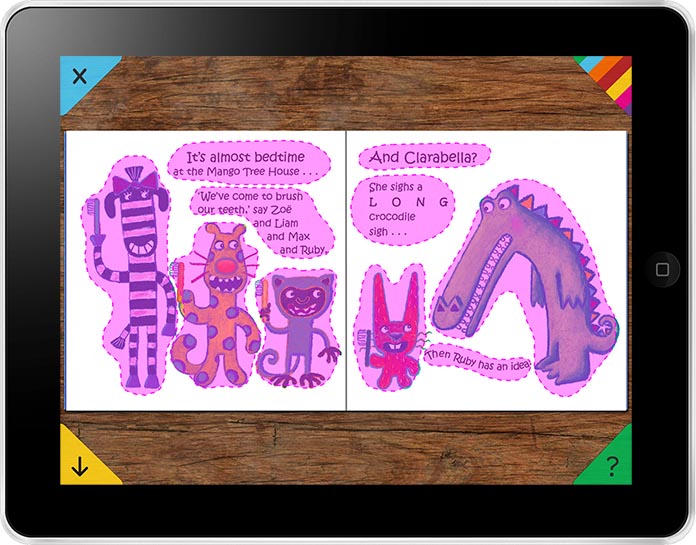 Smile, Crocodile, Smile is my favourite picture book and one I always include in story sessions at school visits. It tells the story of Clarabella Crocodile who lives in the Mango Tree house. Clarabella has a dental dilemma:  play with her friends or brush her teeth? Clarabella has a lot of teeth, so it takes her a long time to brush them all…
The Me Books people are a lovely bunch to work with. I was involved at each stage of the production. First the 'asides' needed to be written. These are extra bits of dialogue for the characters. Post-it notes came in really handy at this stage.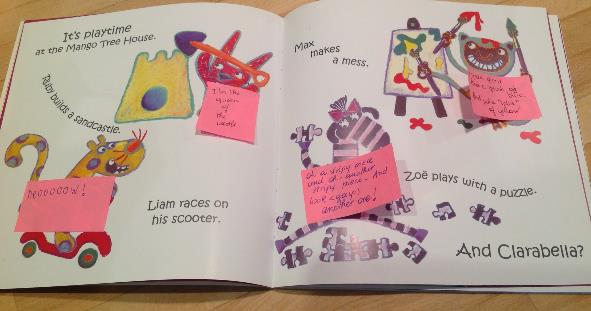 Next, Me Books sent me a link to demo reels of voice actors they had previously worked with. The voices were all excellent, but none were quite right for Smile Croc, so Harry at Me Books kept on looking until she discovered actress Jo Martin.
I brought my well-traveled crocodile toothbrush with me to the voice recording to get everyone in the mood. Jo did a fantastic job. She had us all (Helen from OUP, Will from Me Books and me) in stitches!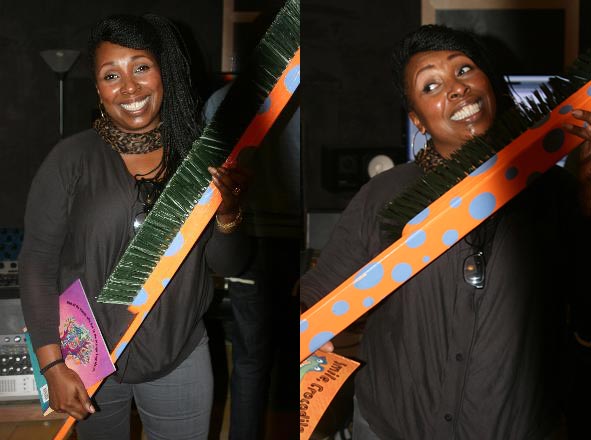 We even recorded voices for  the bugs on the end papers.
Later in the Me Books Studio, Will recorded this little  interview of me:
I am really pleased that Smile, Crocodile, Smile is now available to enjoy in digital format.  Can't wait to test it  at my next school visit!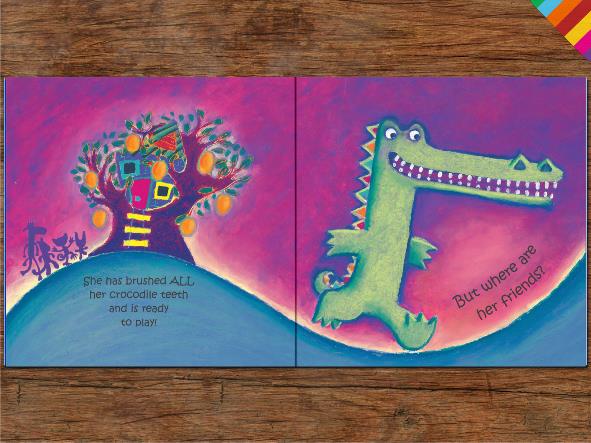 Me Books and Smile, Crocodile Smile are available from the  iTunes app store. First download the free Me Books app, then you can purchase books by tapping on the Shop icon in the app.
Smile, Crocodile, Smile is also available as a paperback picture book published by Oxford University Press. In the US it is published as Clarabella Crocodile by Clarion Books.
Many thanks to Harry and Will at Me Books!