The Tie at Berlinale Generation
I went to Berlin last week where my new animated short The Tie  premiered in the Generation competition of the Berlinale. Here is the trailer for The Tie:
The Tie – trailer from An Vrombaut on Vimeo.
The Tie was screened five times during the Berlinale. I only managed to attend the first screening at the 'Haus der Kulturen der Welt' in front of an audience of almost a thousand children. There were several other animated films in the programme including my friend Isabelle Favez's 'Messages dans l'air', Leila Khalilzadeh's 'The Fried Fish', Martin Smatana's 'Rosso Papavero' and Lena Van Doehren's 'The Little Bird and the Squirrel'.
TRAILER The little Bird and the Squirrel/ Der kleine Vogel und das Eichhörnchen from Lena von Doehren on Vimeo.
The screening itself was enough enough excitement, so imagine my delight when the Children's Jury gave a special mention to The Tie! The Crystal Bear for generation Kplus went to 'Gift of my father' by Salam Salman from Irak  (short film) and to 'My skinny sister' by Sanna Lenken from Sweden (feature film).
With my producer Annemie Degryse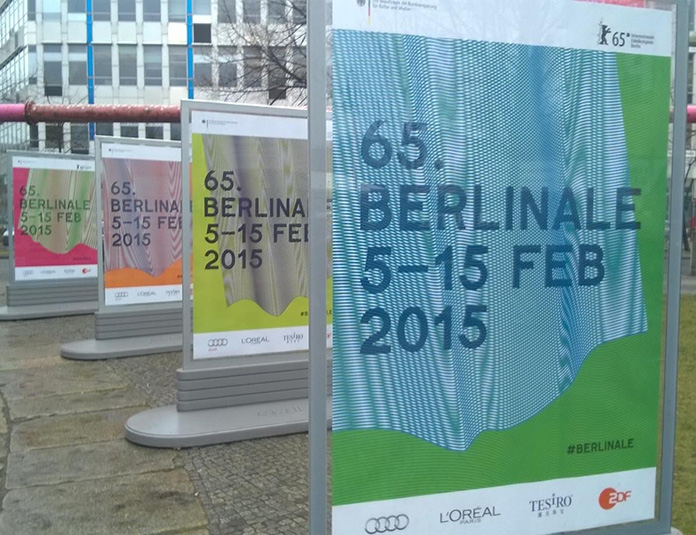 Winners of the Giraffe Art Competition
Decisions, decisions… so many giraffes to choose from.
It wasn't easy picking the winners for the Giraffe Art Competition, but with some help from my daughters and also from my editor and designer at Hodder (thank you Sarah and Jenny), I have now selected the winners. Each of the category prize winners will receive a signed 64 Zoo Lane picture book of their choice.
Winner of the 5 and under category: Jessica aged 5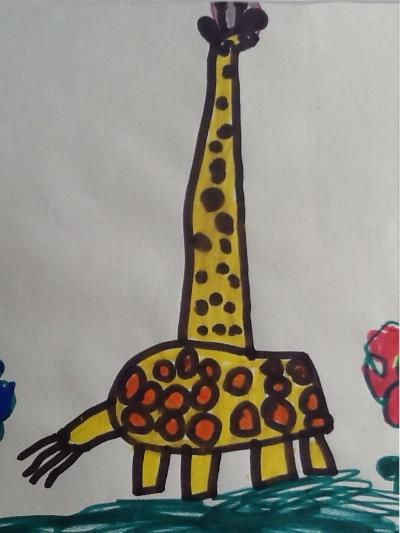 Winner of the 6 to 12 category: Molly aged 7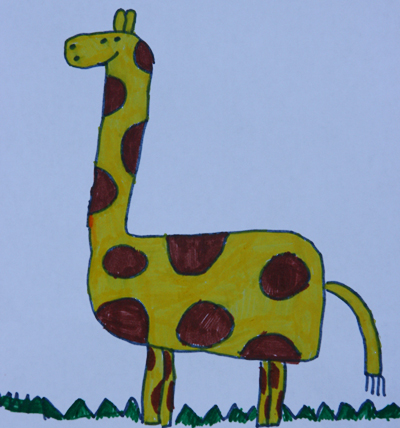 Winner of the 13 and up category: Emma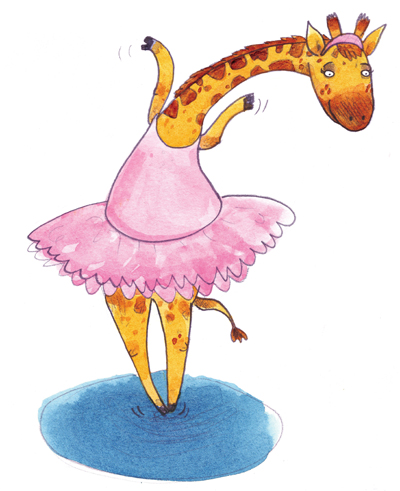 Winner of the GRAND PRIZE ( a set of 6 signed 64 Zoo Lane books) Mia aged 4. I love those spots,  Mia!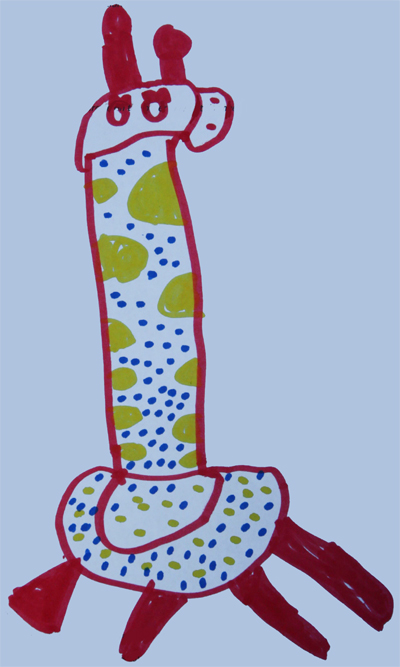 And finally, I've decided to award a SPECIAL PRIZE (one more signed book) to 7 year old Spike who created 3 giraffes including this very cool Lego one.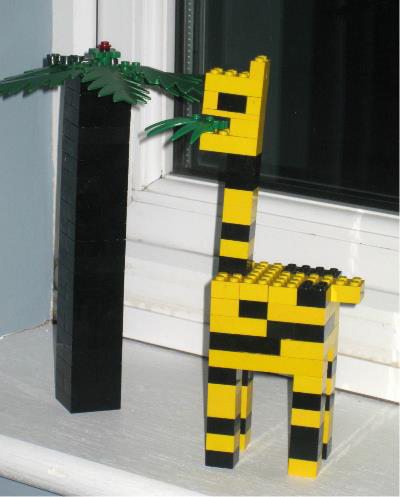 Congratulations to the winners and a big thank you to all entrants for their fantastic giraffe art. All the winners will be contacted by email.
Don't forget to visit the Giraffe Gallery to see all entries.
Beale Park 64 Zoo Lane book event pictures
On Saturday 20th July I visited Beale Park in Berkshire for the launch of the re-issued 64 Zoo lane books. Beale Park is a wildlife park on the banks of the river Thames. It's home to lots of wonderful creatures including alpacas, meerkats, owls, capybaras and this feathered beauty: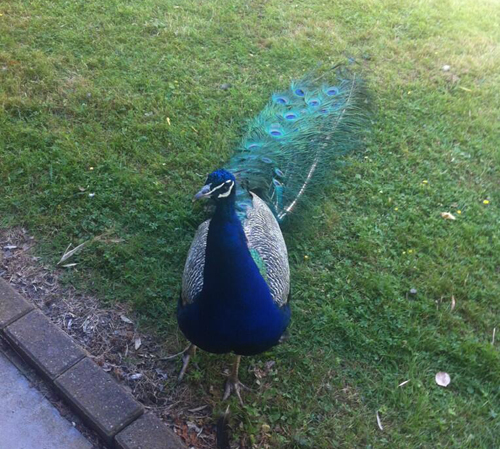 Here's my version of a Beale Park peacock.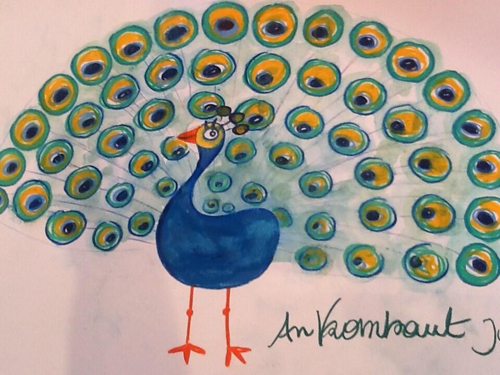 I started story time with the story of Georgina the Giraffe who is incredibly tall.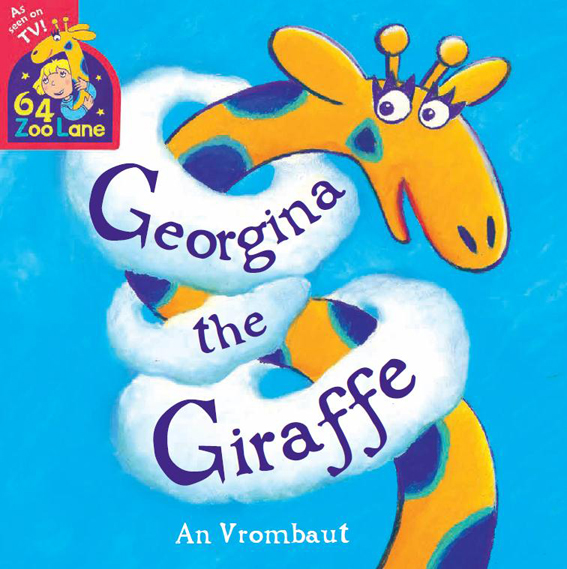 Craft activities followed. Here's Georgina's long neck. A group effort!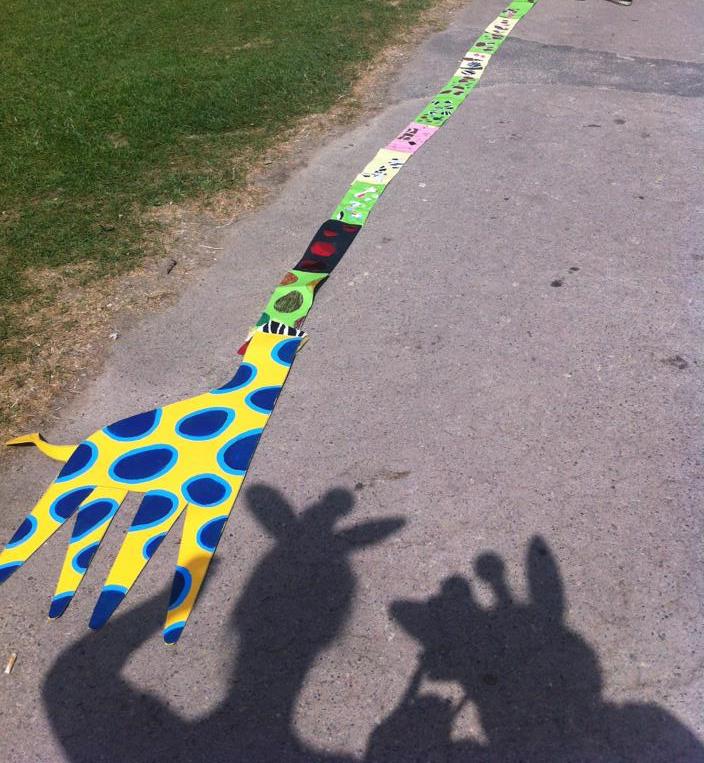 The shadow giraffe ears and ossicones (those antlery things)  belong to myself and  Nellie Williams, wonderful and indefatigable events organiser.
There was an opportunity to enter my Giraffe Art competition.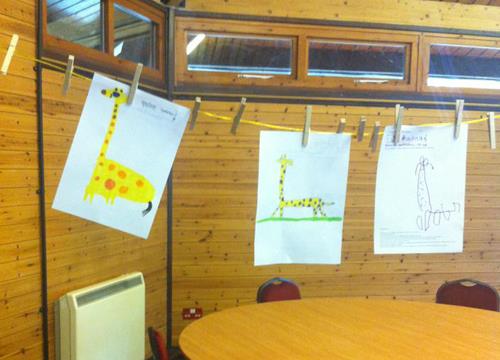 Concentration required…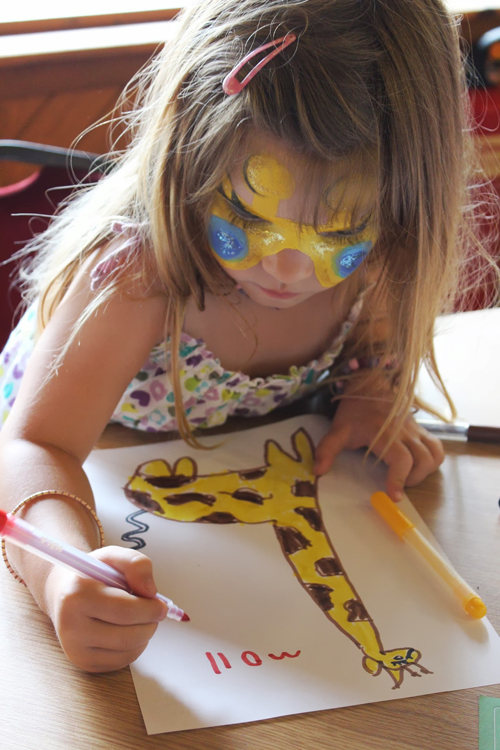 What a charming specimen!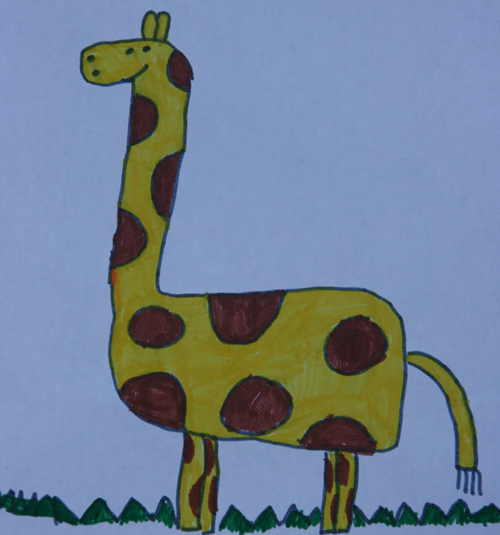 Not quite a giraffe, but equally lovely: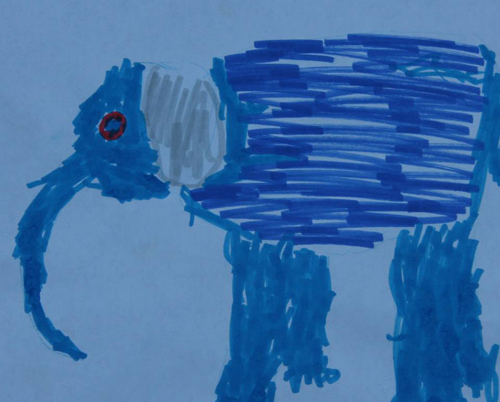 There's still time to enter the Giraffe Art competition (details here).  The deadline is 4th August.
Faces were painted  by the talented Trina of Jinglejellies.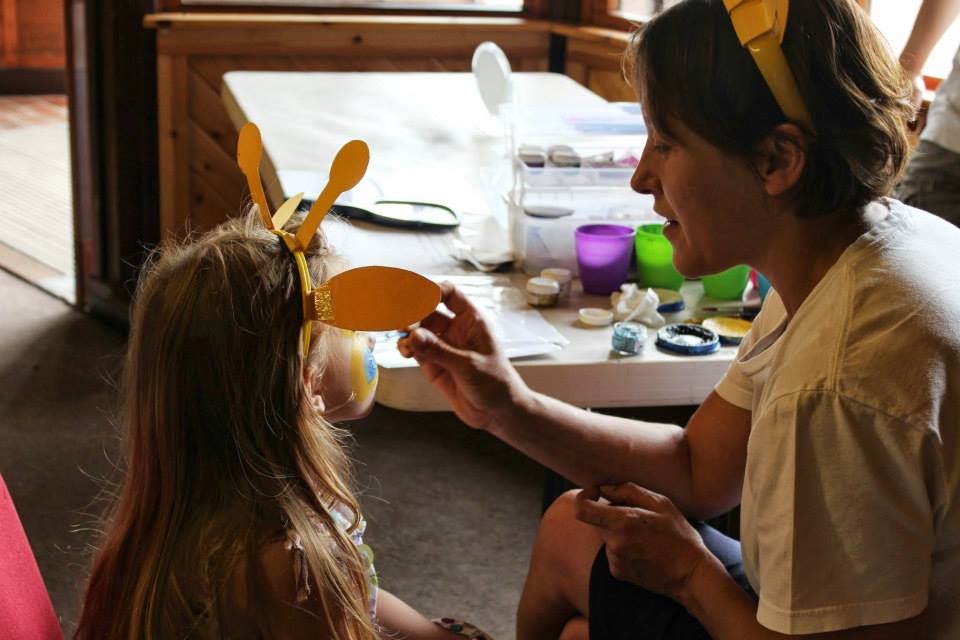 Georgina the Giraffe and Zed the Zebra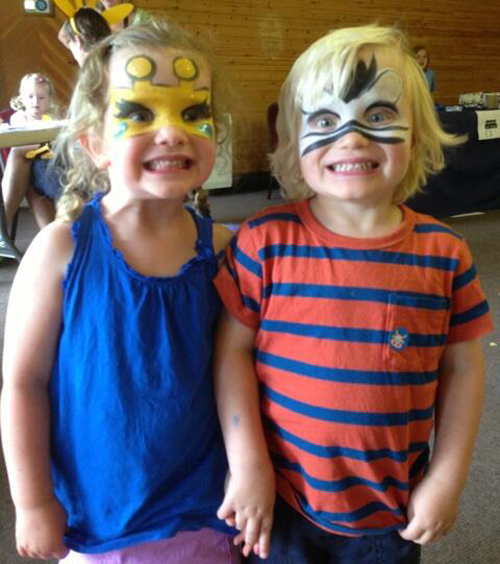 Books were sold by Alison of the Wallingford Bookshop (l) and signed by me (r).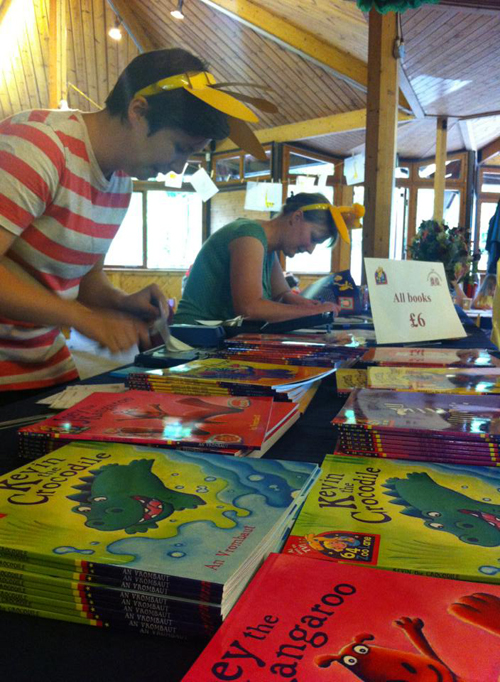 And last but not least, I was presented with a gift from Beale Park: sponsorship of a capybara (my 2nd favourite animal after giraffes).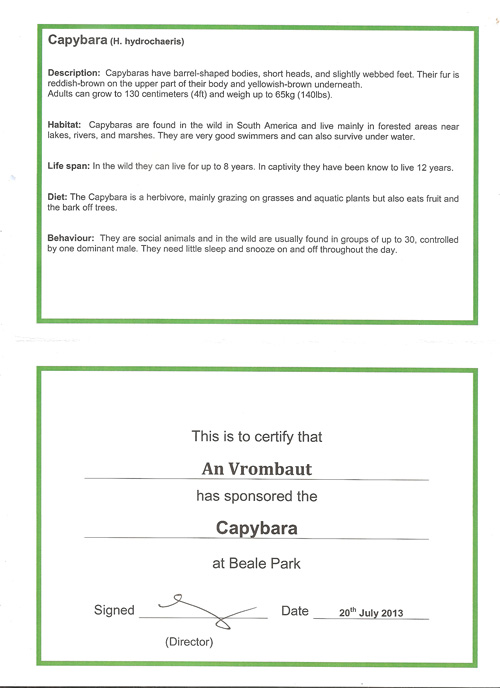 Here she is: Peggy-Sue the Capybara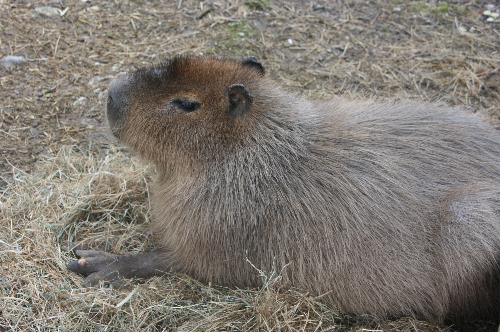 Many thanks to Nellie, Beale Park, Wallingford Bookshop, Hodder Children's books and everyone else who helped to make it a wonderful day!
64 Zoo Lane story time and crafts in Harrow – Saturday 27th July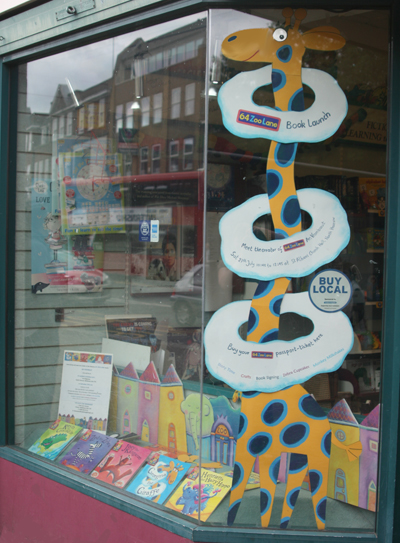 Today I fitted this 64 Zoo Lane window display at The New Leaf Bookshop in Pinner. Doesn't it look fab?  To celebrate the publication of new editions of the 64 Zoo Lane picture books I've decided to hold an event with my local independent bookshop .  Get your passport to lots of 64 Zoo Lane fun and join me  in North Harrow on Saturday 27th July.
I've  been busy printing passports….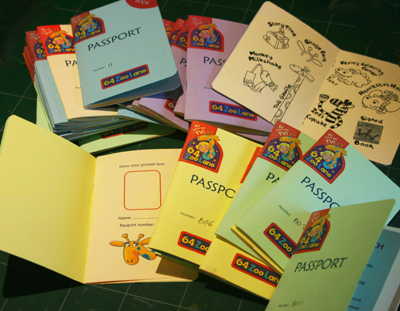 The 64 Zoo Lane passport includes:
Story time at 11:15 am and 12:15 pm
Craft activities: make giraffe or zebra ears, Henrietta's Hairdo and more
Decorate a Zebra Cupcake Activity (and you can eat it too of course!) 
A monkey milkshake  – yum yum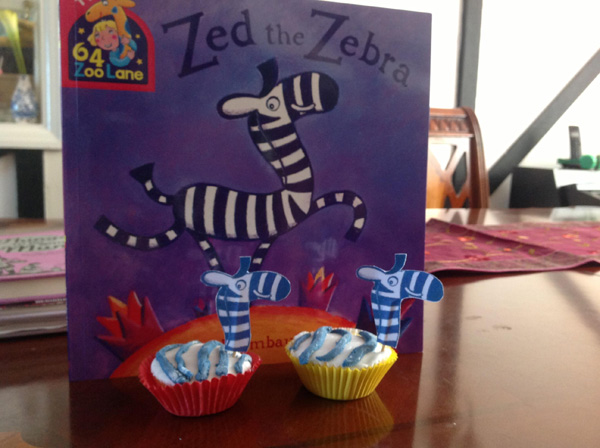 We'll also be creating  a very talllllllll  giraffe drawing. In between readings Judy fromThe New Leaf  Bookshop will be selling 64 Zoo Lane books which  I will sign and dedicate.
You can buy your 64 Zoo Lane Passport from The New Leaf  Bookshop in Pinner  www.thenewleafbookshop.com Tel: 020 8866 9116. Passports cost £5 from the shop / £6 at the event itself. Or for £10 you get a special passport which includes a signed picture book  (RRP £6.99) as well as all the activities and treats listed above. Free entry for children under 2 and adults. Coffees and teas will be available.
I hope to meet lots of 64 Zoo Lane fans. Why not come dressed up as your favourite animal? I will be wearing my giraffe ears.
SEE YOU SOON!
WHEN? Saturday 27th July from 10:45 am to 12:45 pm
WHERE? St Alban's Church Hall, The Ridgeway, North Harrow HA2 7PF

The 64 Zoo Lane books are published by Hodder Children's Books.
Win signed 64 Zoo Lane books – A Giraffy Art competition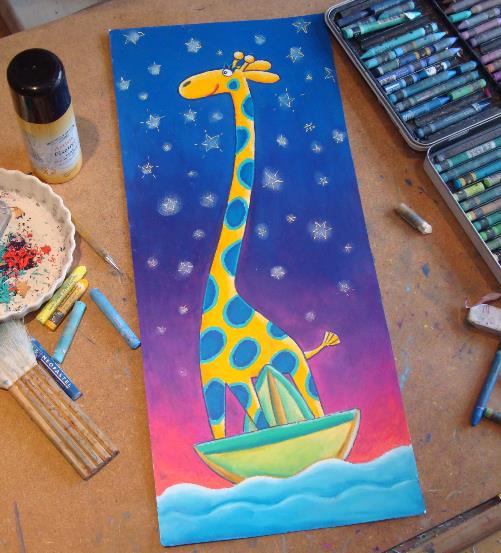 The 64 Zoo Lane picture books are published this month.  To celebrate, I am running a giraffy art competition. This is how to enter:  Draw, paint or model a giraffe, then email a picture of your art to me with your first name,  email address and age. I know  64 Zoo Lane has fans of all ages, so I've decided to open  the competition up to anyone -young and old-  in the UK. There is a prize for each  age category and an overall Grand Prize.
*drum roll* Grand Prize
 A set of six signed 64 Zoo Lane books – yep, 6 books signed and dedicated by the author/illustrator. I'll even add a sketch of the characters.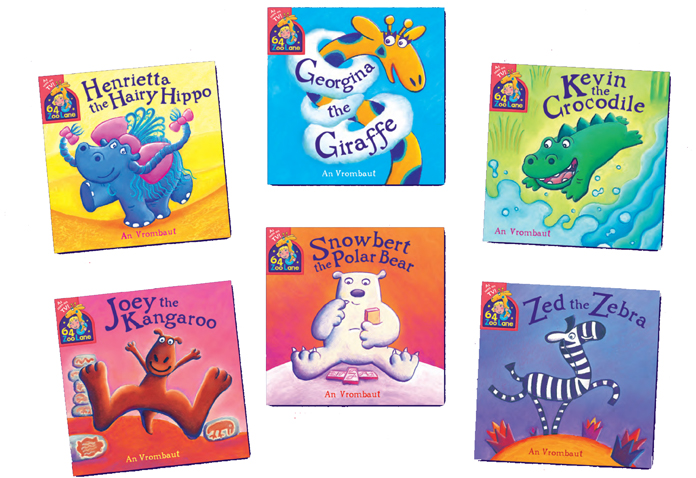 Category prizes (0-5 , 6-12 , 13 and up)
A signed 64 Zoo Lane book of your choice
And best of all,  all entries will be displayed in the world-renowned  Giraffe Gallery.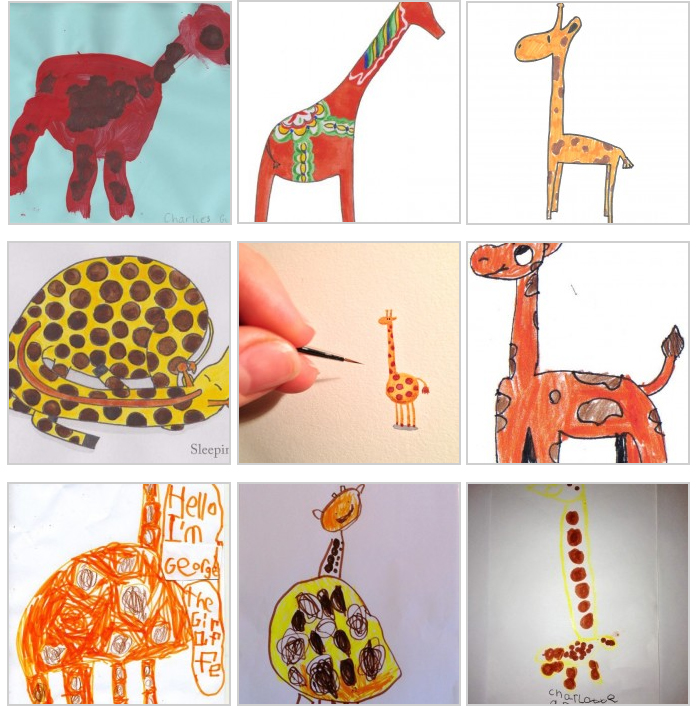 Good luck!
Competition Rules:
1) Entry open to any UK resident. Age categories: 5 and under / 6 to 12 / 13 and up.
2) Closing date 4th August 2013
3) The winners will be announced on 2nd September 2013.
4) Any art technique is allowed: drawing, painting, collage, modelling, computer graphics etc. Entries must be your own work.
5) Email a picture of your art to me with your first name, contact email address and age.
6) Email addresses will  be used only to contact  the winners.
7) All entries will be displayed in the Giraffe Gallery using entrants' first names as a caption. Entries may also be displayed on Twitter , Facebook and Pinterest
8) Grand Prize: set of six signed 64 Zoo Lane picture books , category prizes: one signed 64 Zoo Lane book of your choice for each category
64 Zoo Lane- A sort-of-anniversary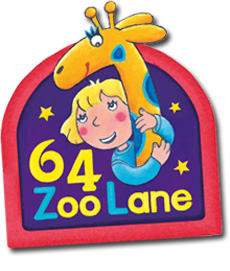 64 Zoo Lane turns 20 this month.  TWENTY?  Well yes, sort of …
Lucy and her menagerie have been on TV since 2000 – so that's just over 13 years.  However,  I created the concept seven years earlier in 1993 when I was  a student at the Royal College of Art.  I had just completed my graduation Little Wolf  (music by Rowland Lee who went on to write the music for 64 Zoo Lane).  I knew  I wanted make children's TV, so I started thinking of an idea for an animated series…
There were two things I was sure of from the start:
Firstly, my TV series would have animals in it.  I grew up in a household with lots of pets, so animals are what I enjoy drawing the most.  Here's a drawing of a tortoise I did when I was five. Can you see the resemblance with Toby from 64 Zoo Lane?

And secondly, this series had be something that would really engage me .  The idea of doing 26 episodes with the same characters and settings terrified me slightly. What if I got bored after episode number 3? I needed to come up with a concept that would keep me captivated , a format I could expand on… So I decided to include lots of animal characters  that live in different environments.
A zoo was the first thing that came to my mind. I took inspiration from Antwerp  zoo in Belgium which I visited regularly as a child. It's in the middle of the city right next to the central railway station.
Then I got the  idea of a girl living next door at number 64.   Each night Lucy would make a clandestine visit to the zoo via the long neck of Georgina the giraffe and one of the  animals would tell her a bed time story.
My original plan was to use traditional animal stories. I started by researching Aesop's fables.   I recently discovered these excellent  BBC School Radio recordings of Aesop's tales  (narrated by Richard Briers, Jane Horrocks, Alison Steadman and others).
I  read Rudyard Kipling's Just So Stories before moving on to Inuit raven legends, the traditional African tales of Anansi the Spider and  the mischief maker Nogwaja the Hare and the Igbo story of the flying tortoise.
However, the more animal stories I discovered, the more I realised how difficult it would be to re-use characters from one story into another. So I abandoned the plan of using  characters from traditional tales and decided to create my own instead. I wanted my characters to be like real people : Each would have its  flaws and obsessions, and each would relate to the others as if they were members of one large extended family.  I started to write stories about  a giraffe with a very long neck. A little crocodile who  can't help being cute. A zebra with go-faster stripes. A kangaroo who can't jump. A lonely polar bear. A hairy hippo. And of course many more… I couldn't possibly write all 64 Zoo Lane stories myself so I work with a small team of talented script writers. It's great fun!
We're up to episode 104 now.  Thankfully I'm still not bored with it and  neither are the writers, voice artists, story-board artists, composer etc.
So  Happy 20th  Anniversary to 64 Zoo Lane!  (And also to Lucy who's forever 7)
Series 4 of 64 Zoo Lane is currently showing on  CBeebies Sunday to Thursday at 18:10.  
Watch  episodes on the iPlayer  (UK only)