The Tie at Berlinale Generation
I went to Berlin last week where my new animated short The Tie  premiered in the Generation competition of the Berlinale. Here is the trailer for The Tie:
The Tie – trailer from An Vrombaut on Vimeo.
The Tie was screened five times during the Berlinale. I only managed to attend the first screening at the 'Haus der Kulturen der Welt' in front of an audience of almost a thousand children. There were several other animated films in the programme including my friend Isabelle Favez's 'Messages dans l'air', Leila Khalilzadeh's 'The Fried Fish', Martin Smatana's 'Rosso Papavero' and Lena Van Doehren's 'The Little Bird and the Squirrel'.
TRAILER The little Bird and the Squirrel/ Der kleine Vogel und das Eichhörnchen from Lena von Doehren on Vimeo.
The screening itself was enough enough excitement, so imagine my delight when the Children's Jury gave a special mention to The Tie! The Crystal Bear for generation Kplus went to 'Gift of my father' by Salam Salman from Irak  (short film) and to 'My skinny sister' by Sanna Lenken from Sweden (feature film).
With my producer Annemie Degryse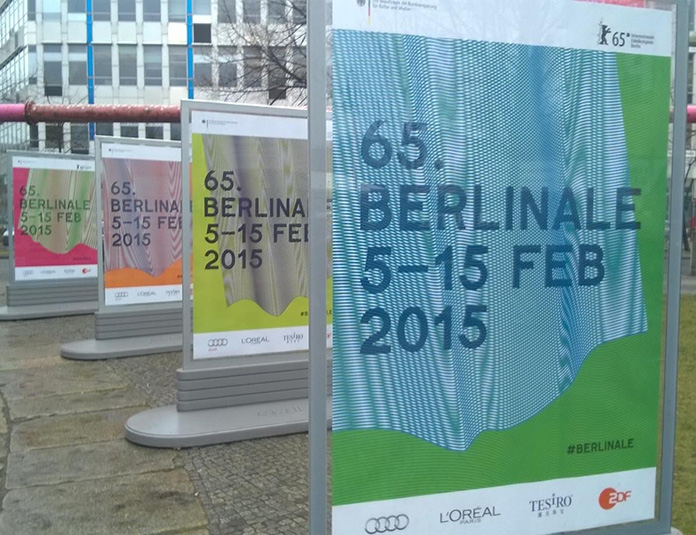 The Tie – new animated short film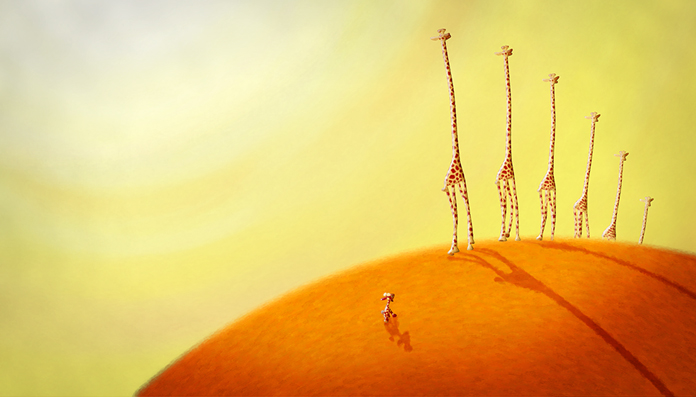 I made a film: an 8 1/2 minute animated short, my first computer animated project. I was planning to blog during the production process, but as tends to  happen during an intensely creative phase,  I just kept on delaying my blogging plans. I suppose I needed to concentrate on  making the actual film.
And now The Tie is all wrapped up!  It was produced in my home town Ghent (Belgium) by Lunanime and animation studio Creative Conspiracy with support from VAF (the Flanders Audiovisual Fund) – Thank you VAF!  I was lucky to work with two people I have known for a very long time: Annemie Degryse, the producer at Lunanime who I went to college with, and Inge Daveloose, who I know from a long time ago when we both worked on Richard Williams' The Thief and the Cobbler in London. Inge did the colour studies and backgrounds for The Tie.
So what's the new film all about? As the title suggests, it's about a tie. In fact it's about two different types of ties: the kind of tie that you put around your neck and the kind of  tie between people – or rather giraffes, because it has no people in it.
Here is an official bit of blurb:
'The Tie was inspired by an early memory I have of being lifted high up in the air by my father. The film deals with the ties between people: the meetings, partings and reunions that affect us all. I wanted the purity of the story to shine through, which is why I decided to pare the film down to its essential elements: a tall giraffe, a small giraffe, some other giraffes, a tree and, of course, a tie.'
Lunanime held a preview screening in the Sphinx cinema in Ghent. We printed posters and I even made giraffe ears for the children. Here are some pictures from the screening:
And now for the REALLY exciting news: The Tie has been selected for the Generation Kplus section of the Berlinale – WOOHOOOO! This will be the world festival premiere. The Berlinale is one of the world's most prestigious film festivals, so I am really looking forward to going there. Here is the screening schedule for anyone who is interested in coming along:
11th February 10:00 Haus der Kulturen der Welt Kino 1 – I will be present at this screening.
12th February 10:30 CinemaxX 1
13th February 09:30 Zoo Palast 1
15th February 10:00 Filmtheater am Friedrichshain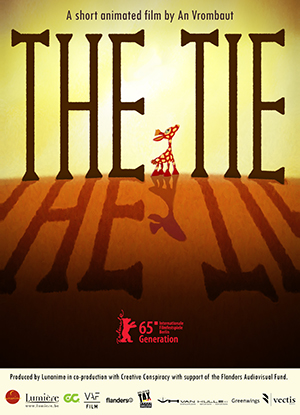 Shortly after the Berlinale The Tie will be screened at Anima in Brussels. To keep up to date with festival screenings and news about The Tie please like the Facebook page www.facebook.com/thetiefilm or follow @TheTie on Twitter. Now that the film is finished, I am planning to do some retrospective blogging about the different stages of the production process. In the meantime, here are a few more stills from the film:
64 Zoo Lane- A sort-of-anniversary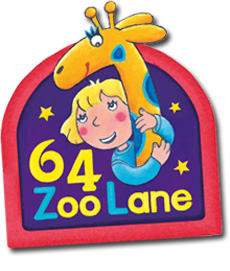 64 Zoo Lane turns 20 this month.  TWENTY?  Well yes, sort of …
Lucy and her menagerie have been on TV since 2000 – so that's just over 13 years.  However,  I created the concept seven years earlier in 1993 when I was  a student at the Royal College of Art.  I had just completed my graduation Little Wolf  (music by Rowland Lee who went on to write the music for 64 Zoo Lane).  I knew  I wanted make children's TV, so I started thinking of an idea for an animated series…
There were two things I was sure of from the start:
Firstly, my TV series would have animals in it.  I grew up in a household with lots of pets, so animals are what I enjoy drawing the most.  Here's a drawing of a tortoise I did when I was five. Can you see the resemblance with Toby from 64 Zoo Lane?

And secondly, this series had be something that would really engage me .  The idea of doing 26 episodes with the same characters and settings terrified me slightly. What if I got bored after episode number 3? I needed to come up with a concept that would keep me captivated , a format I could expand on… So I decided to include lots of animal characters  that live in different environments.
A zoo was the first thing that came to my mind. I took inspiration from Antwerp  zoo in Belgium which I visited regularly as a child. It's in the middle of the city right next to the central railway station.
Then I got the  idea of a girl living next door at number 64.   Each night Lucy would make a clandestine visit to the zoo via the long neck of Georgina the giraffe and one of the  animals would tell her a bed time story.
My original plan was to use traditional animal stories. I started by researching Aesop's fables.   I recently discovered these excellent  BBC School Radio recordings of Aesop's tales  (narrated by Richard Briers, Jane Horrocks, Alison Steadman and others).
I  read Rudyard Kipling's Just So Stories before moving on to Inuit raven legends, the traditional African tales of Anansi the Spider and  the mischief maker Nogwaja the Hare and the Igbo story of the flying tortoise.
However, the more animal stories I discovered, the more I realised how difficult it would be to re-use characters from one story into another. So I abandoned the plan of using  characters from traditional tales and decided to create my own instead. I wanted my characters to be like real people : Each would have its  flaws and obsessions, and each would relate to the others as if they were members of one large extended family.  I started to write stories about  a giraffe with a very long neck. A little crocodile who  can't help being cute. A zebra with go-faster stripes. A kangaroo who can't jump. A lonely polar bear. A hairy hippo. And of course many more… I couldn't possibly write all 64 Zoo Lane stories myself so I work with a small team of talented script writers. It's great fun!
We're up to episode 104 now.  Thankfully I'm still not bored with it and  neither are the writers, voice artists, story-board artists, composer etc.
So  Happy 20th  Anniversary to 64 Zoo Lane!  (And also to Lucy who's forever 7)
Series 4 of 64 Zoo Lane is currently showing on  CBeebies Sunday to Thursday at 18:10.  
Watch  episodes on the iPlayer  (UK only)