Framed Film Festival – Barbican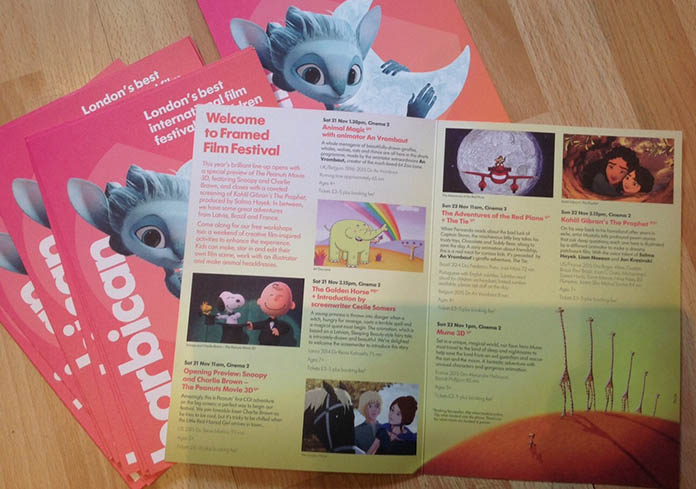 I have some very exciting news! My films will be screened at the Framed Film Festival for children at the Barbican on 21 November.  Three shorts will be  shown – including my new film The Tie – as well as two episodes of 64 Zoo Lane. The screening is entitled 'Animal Magic with animator An Vrombaut' and  is the first such screening dedicated solely to my work. There will be wolves, whales, kitten, tigers, elephants –  and giraffes of course!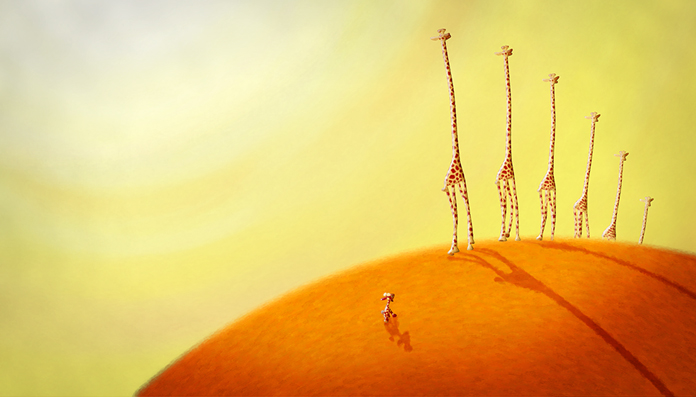 The Tie – Special Mention at Berlinale Generation 2015 and Amsterdam Young Audience Award at KLIK! 2015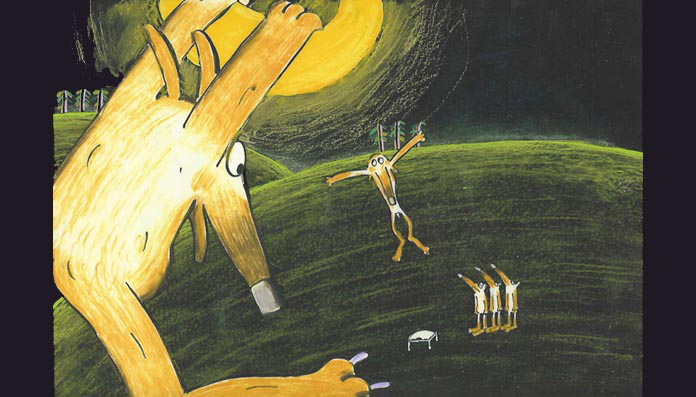 Little Wolf – my graduation film from the RCA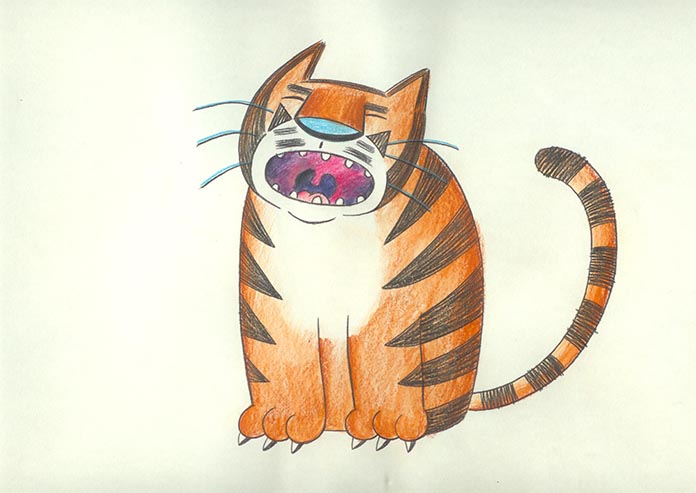 When I Grow Up I Want To Be A Tiger – animated short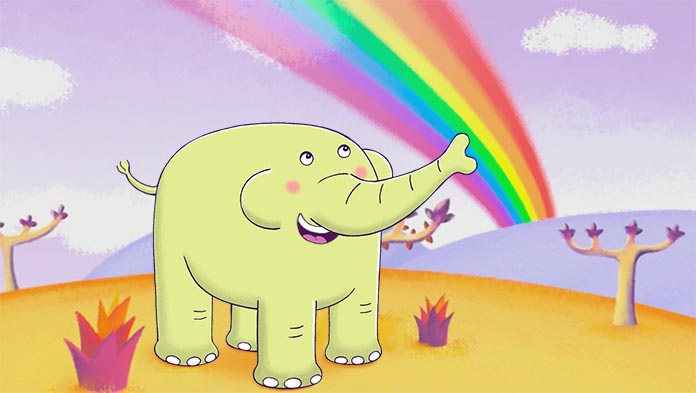 64 Zoo Lane
I will be at the screening to talk about my animal creations, and during the rest of the day I will be in the cinema foyer to sign books and run a free 'animal-ears' workshop. I will be joined by artist Shelly Wain who is designing hats based on some of the other films showing at the festival.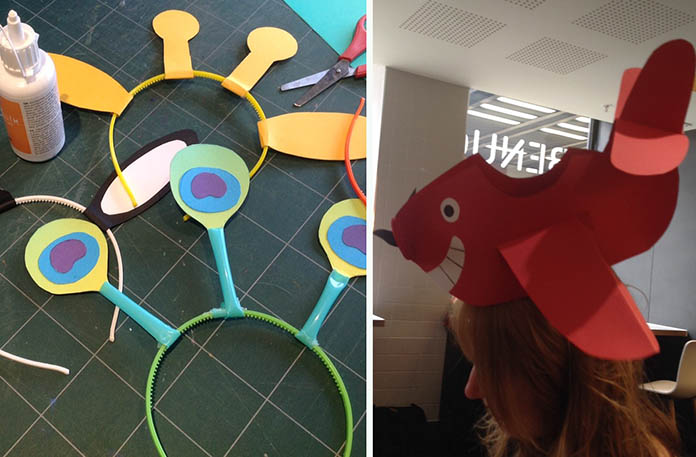 64 Zoo Lane animal ears and Shelly wearing a Red Plane hat
The screening is on Saturday 21 November at 1:30 pm. You can book tickets here: Animal Magic with animator An Vrombaut screening. The Tie will also be shown on Sunday 22 November as a short with  The Adventures of the Red Plane feature. I won't be there on the Sunday, but another artist, Sarah Page, will run the free animal ears/hats workshop.
Other festival highlights include Kahlil Gibran's the Prophet, a preview screening of The Peanuts Movie and a Green Screen Studio.
I hope to see lots of animal fans at the screening!
64 Zoo Lane book buddies
I discovered a lovely idea on the CBeebies website today: book buddies. They're cute character bookmarks which you can slip over the corner of a page of your favourite book. What a great idea to celebrate World Book Day! I couldn't resist making some 64 Zoo Lane ones.
From l to r: Nelson the Elephant,  Molly the Hippo, Herbert the Warthog and Kevin the Crocodile
If you'd like to make your own check out this video on the CBeebies website.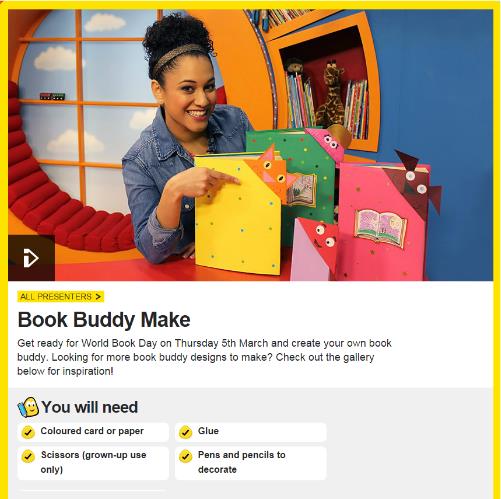 I didn't make a Georgina the Giraffe one; it's too tricky with that long neck. Maybe I should design my own Georgina bookmark!
Win a signed copy of 64 Zoo Lane: Snowbert the Polar Bear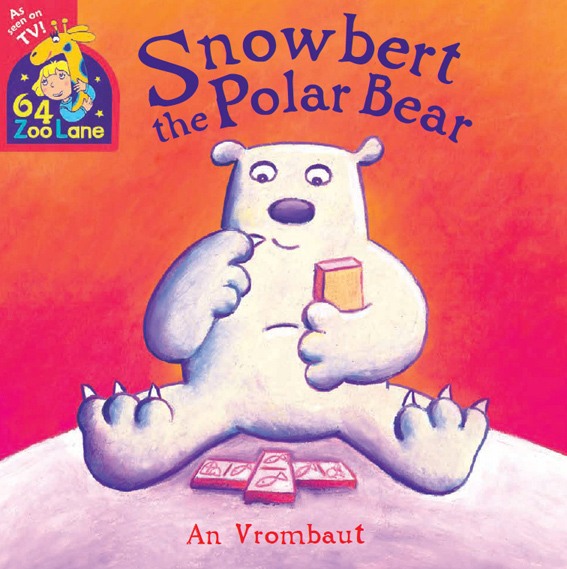 I'm running a 64 Zoo Lane Christmas  give-away. Three signed copies of Snowbert the Polar Bear are up for grabs!
The North Pole is quiet and cold. Snowbert the Polar Bear is fed up of playing dominoes alone. Will he ever find a friend?      
I'm giving one copy away on Twitter.   The winner on Twitter will also receive a signed colour sketch of Snowbert.  For more chances to win a copy of the book enter the Rafflecopter competition below. The closing date for both competitions is 15th December. Competitions open only to UK residents.
Henrietta's Hairdo – Art Activity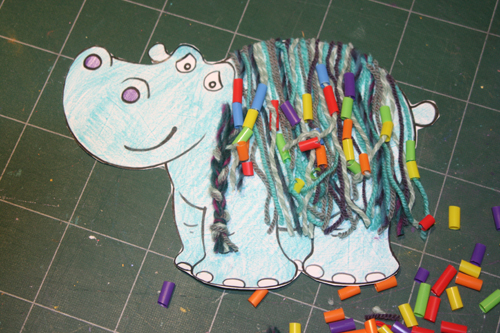 Henrietta the Hippo lived in the Zambam river. The other hippos laughed at her because she wasn't like them. Henrietta was a hairy hippo. . .  Henrietta the Hairy Hippo was the very first 64 Zoo Lane story, the pilot episode for the TV series. It's also one of  the six 64 Zoo Lane picture books I have written and illustrated.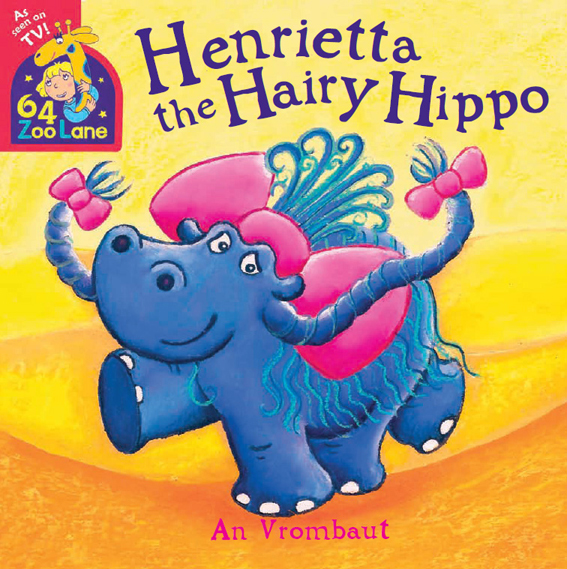 Henrietta's luscious locks can get a little tangled up, but  here is your chance to give  her a funky hairdo.
You will need:
Card and glue (optional)
Colouring pencils or crayons
Scissors
Double-sided tape
Wool
Colourful straws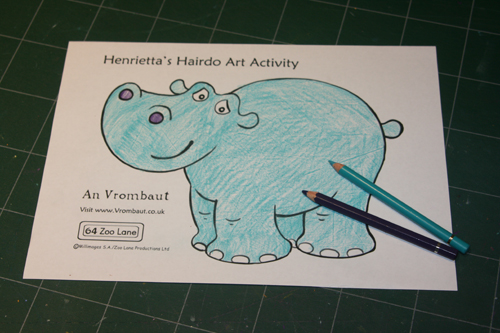 PRINT OUT THIS PICTURE  of Henrietta and stick it on to a piece of card if you'd like it to be stronger.  Colour it in with pencils or crayons.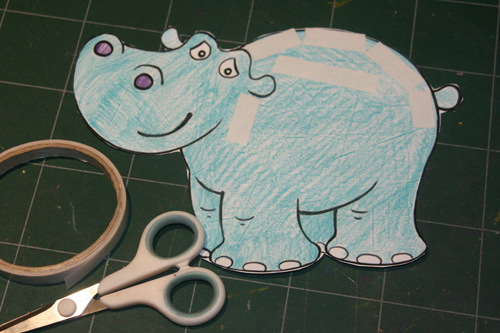 Cut Henrietta  the Hippo out. Then stick some strips of double-sided tape along her back and under her ear.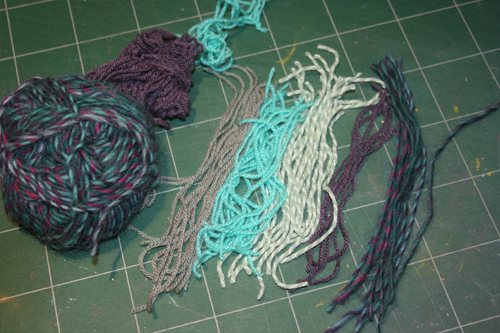 Cut wool into lengths of approximately 12 cm.
Peel the cover off the double-sided tape and start arranging the wool.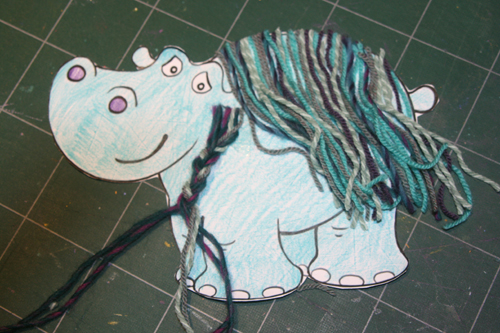 Cut the tops and bottoms of the wool to the required length. Add some plaits if you fancy.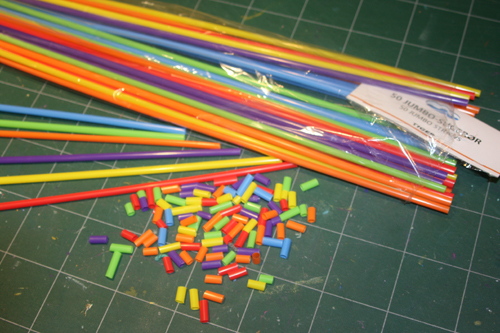 Cut colourful straws into small pieces. I love these  jumbo straws from Tiger!  They're 2 ft long, so you have to suck VERY hard to drink your milkshake, but they're brilliant for crafts.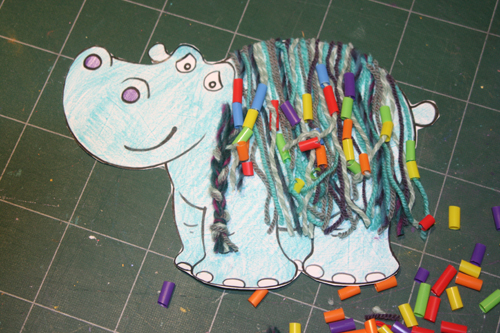 Use the cut straws as beads. Tie a knot to secure the last one on each strand of hair. There you have it: a funky hairdo for a hairy hippo!
And don't forget to read the book.
THE BIG DRAW Story Time and Activities at Wokingham Libraries
I'm visiting three Wokingham Borough Council libraries  during half term on Wednesday 30th October. I'll read stories and brush a crocodile's teeth.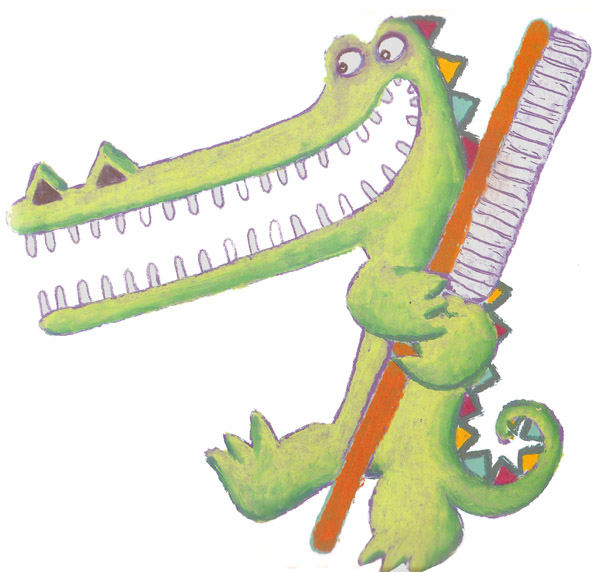 The event is  part of The Big Draw so I will draw lots of 64 Zoo Lane animals and I plan to get everyone else drawing too! There will be four 45 minute sessions:
11 am Wokingham Library
3:40 pm Winnersh Library
Tickets cost £3.  Contact Wokingham Borough Council (0118) 978 1368
I will also pop into the Chapter One Bookshop in Woodley from 2.45pm to3.15pm to sign books.

64 Zoo Lane GIVE-AWAY: DVDs and signed picture books
To celebrate the release of the new 64 Zoo Lane DVD, I am giving away four 64 Zoo Lane bundles. Each contains a DVD, a signed picture book and a pair of giraffe ears.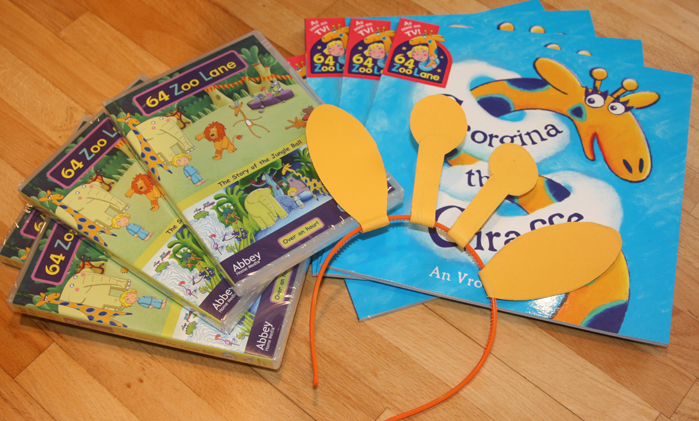 The DVD  features 9 episodes from Series 4 (running time over 90 minutes).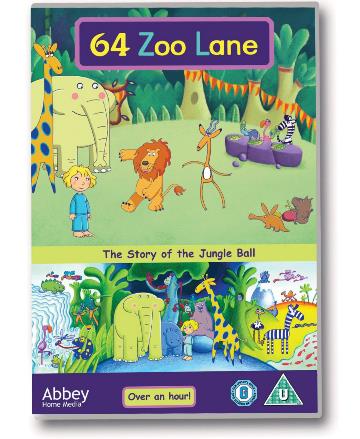 EPISODES
The Story of the Jungle Ball
The Story of Alfie and Charlie's Canoe
The Story of Horace the Hare
The Story of Zed's Really Helpful Mood
The Story of the House of Leaves
The Story of Alan's Scooter
The Story of Gertie the Goat
The Story of the Savannah Craze
The Story of Confuse-us the Carp
Also included in the give-away is Georgina the Giraffe, one of six  64 Zoo Lane picture books written and illustrated by An Vrombaut – creator of the TV series (that's me). I will sign the book and dedicate it to the winner.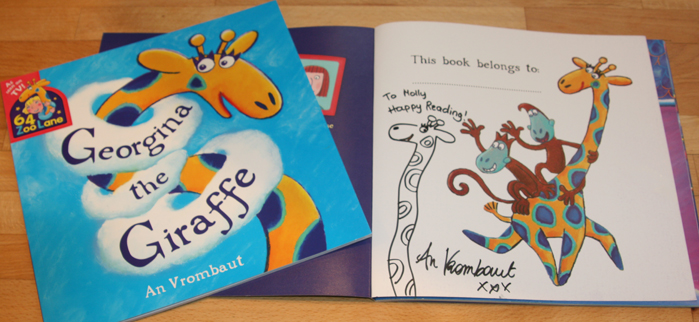 For your chance to win 1 of 4  64 Zoo Lane bundles (DVD + book + giraffe ears) please fill in the Rafflecopter below:
a Rafflecopter giveaway

Many thanks to Abbey Home Media and  Hodder Children's Books for supplying the DVDs and books.
Winners of the Giraffe Art Competition
Decisions, decisions… so many giraffes to choose from.
It wasn't easy picking the winners for the Giraffe Art Competition, but with some help from my daughters and also from my editor and designer at Hodder (thank you Sarah and Jenny), I have now selected the winners. Each of the category prize winners will receive a signed 64 Zoo Lane picture book of their choice.
Winner of the 5 and under category: Jessica aged 5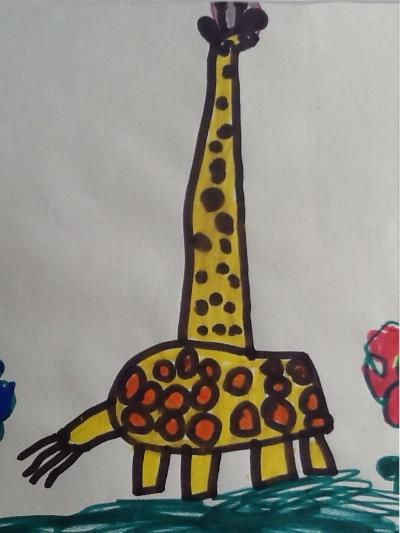 Winner of the 6 to 12 category: Molly aged 7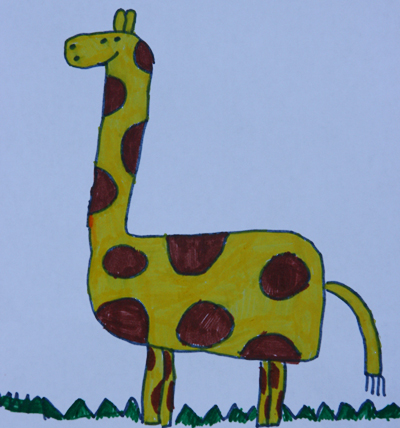 Winner of the 13 and up category: Emma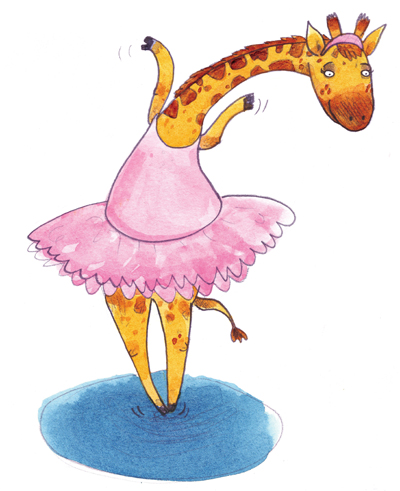 Winner of the GRAND PRIZE ( a set of 6 signed 64 Zoo Lane books) Mia aged 4. I love those spots,  Mia!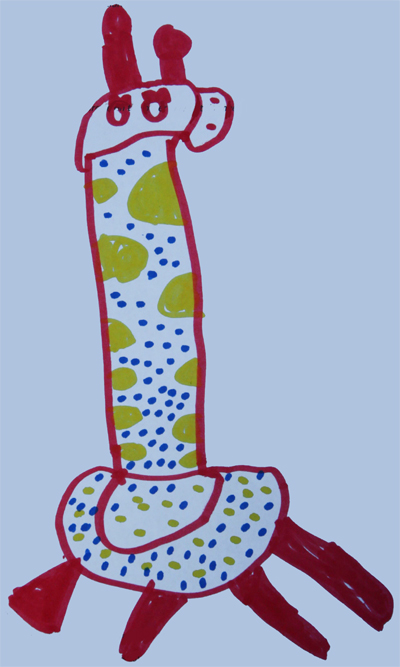 And finally, I've decided to award a SPECIAL PRIZE (one more signed book) to 7 year old Spike who created 3 giraffes including this very cool Lego one.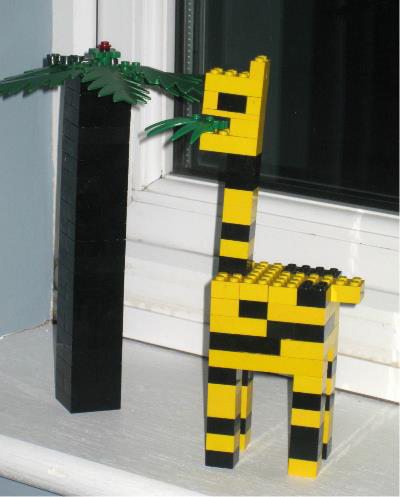 Congratulations to the winners and a big thank you to all entrants for their fantastic giraffe art. All the winners will be contacted by email.
Don't forget to visit the Giraffe Gallery to see all entries.
Beale Park 64 Zoo Lane book event pictures
On Saturday 20th July I visited Beale Park in Berkshire for the launch of the re-issued 64 Zoo lane books. Beale Park is a wildlife park on the banks of the river Thames. It's home to lots of wonderful creatures including alpacas, meerkats, owls, capybaras and this feathered beauty: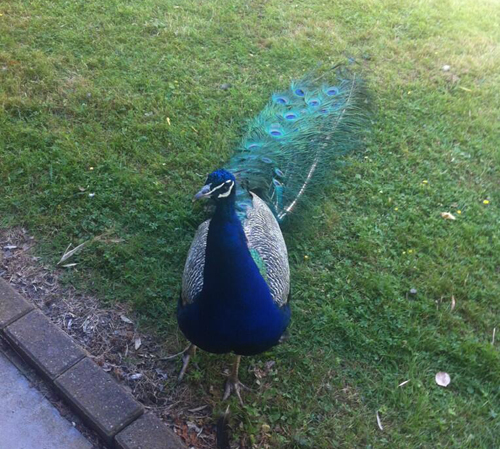 Here's my version of a Beale Park peacock.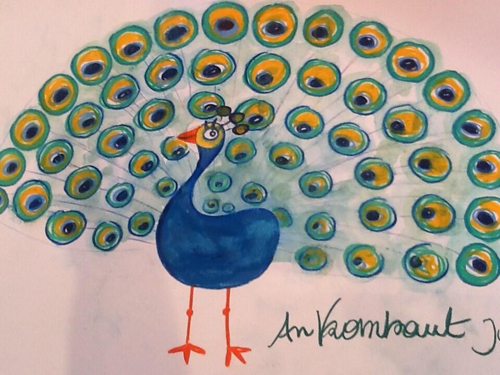 I started story time with the story of Georgina the Giraffe who is incredibly tall.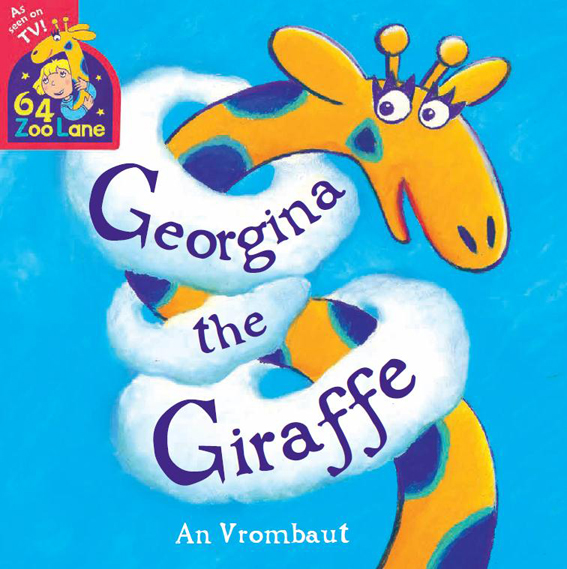 Craft activities followed. Here's Georgina's long neck. A group effort!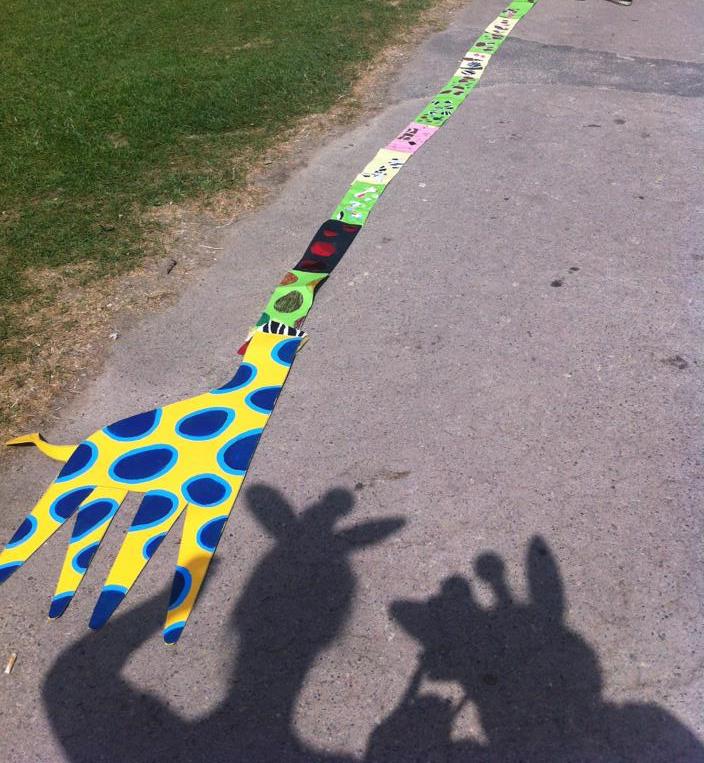 The shadow giraffe ears and ossicones (those antlery things)  belong to myself and  Nellie Williams, wonderful and indefatigable events organiser.
There was an opportunity to enter my Giraffe Art competition.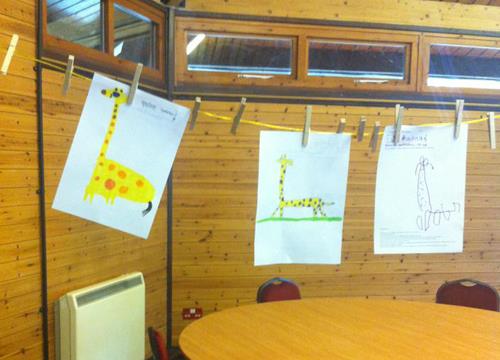 Concentration required…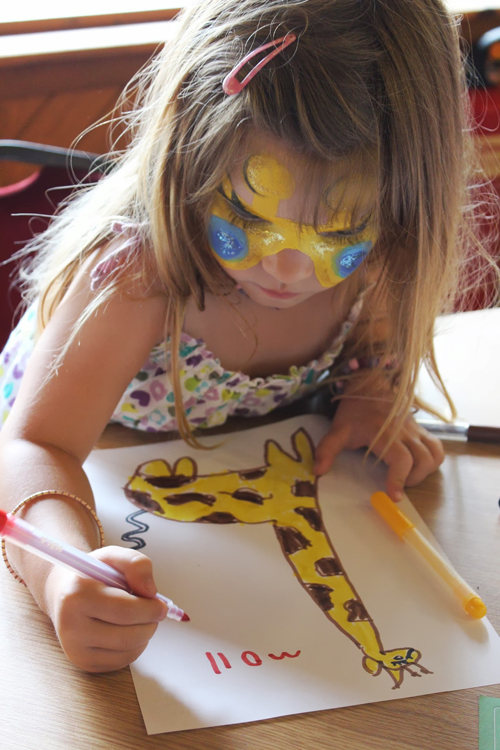 What a charming specimen!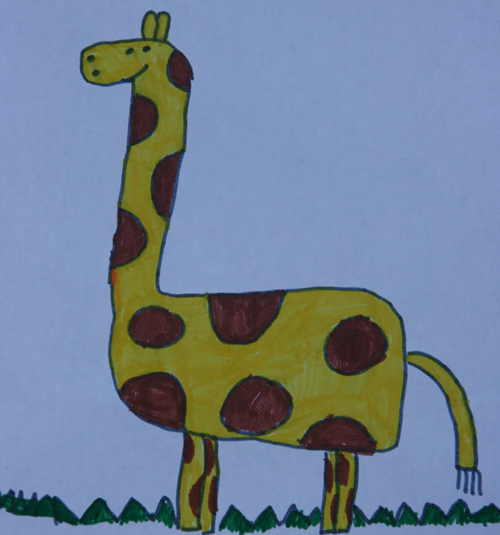 Not quite a giraffe, but equally lovely: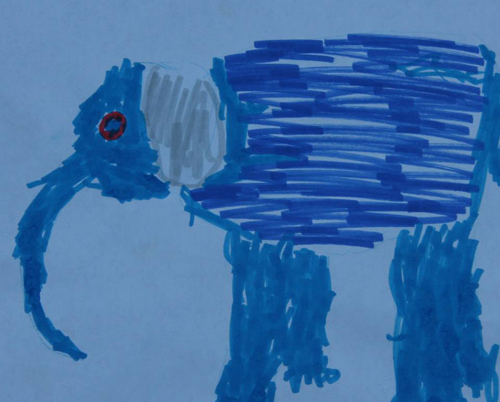 There's still time to enter the Giraffe Art competition (details here).  The deadline is 4th August.
Faces were painted  by the talented Trina of Jinglejellies.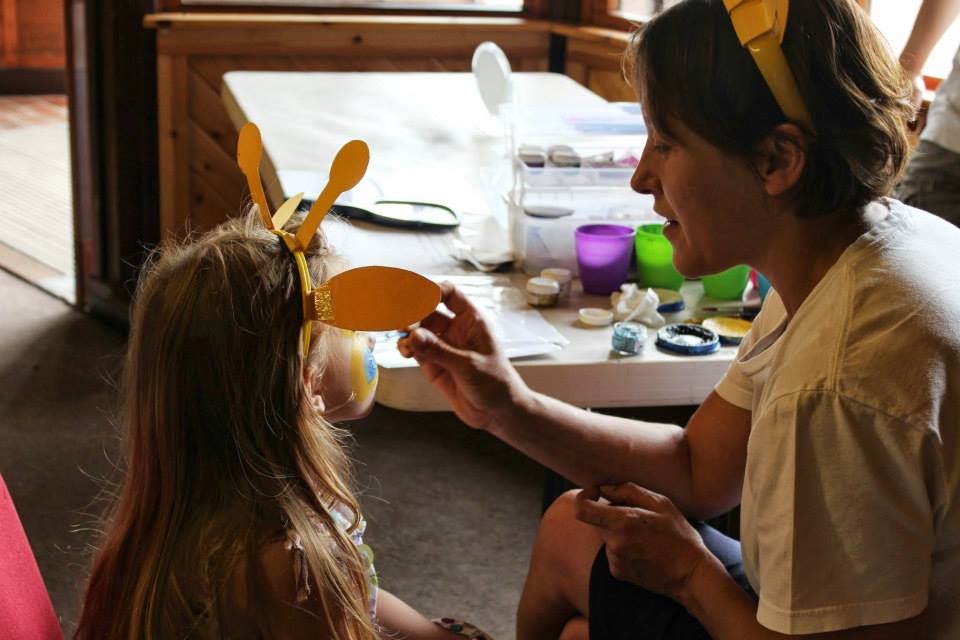 Georgina the Giraffe and Zed the Zebra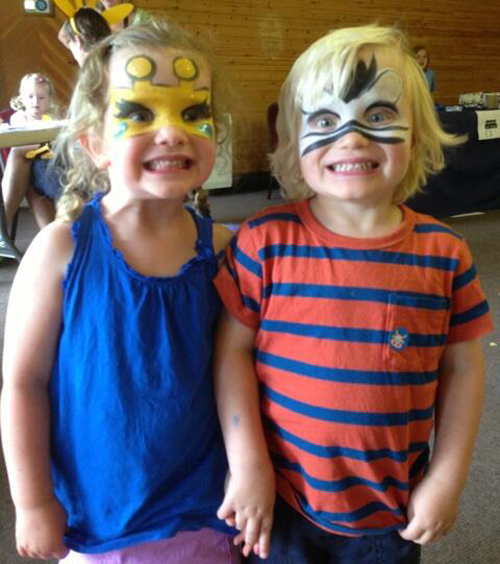 Books were sold by Alison of the Wallingford Bookshop (l) and signed by me (r).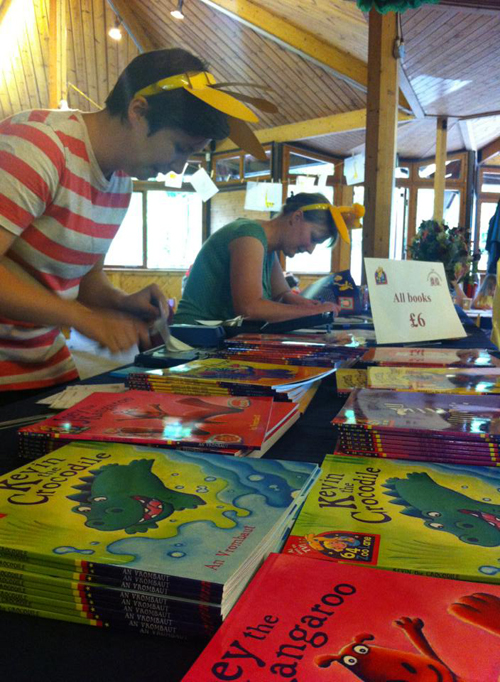 And last but not least, I was presented with a gift from Beale Park: sponsorship of a capybara (my 2nd favourite animal after giraffes).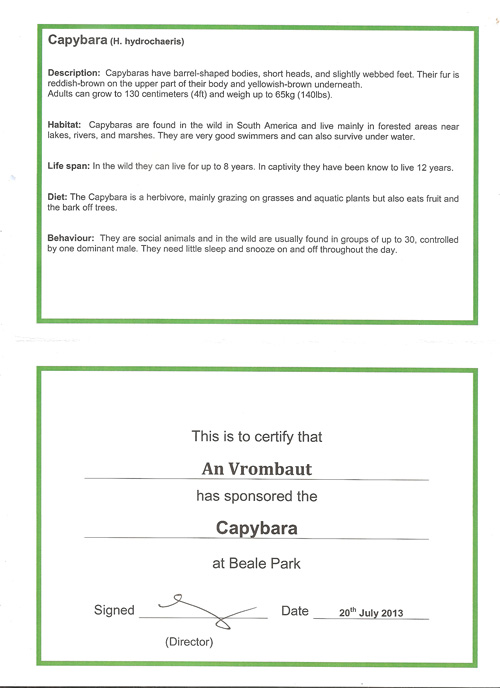 Here she is: Peggy-Sue the Capybara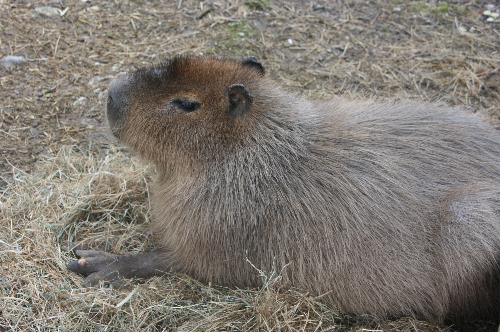 Many thanks to Nellie, Beale Park, Wallingford Bookshop, Hodder Children's books and everyone else who helped to make it a wonderful day!
64 Zoo Lane story time and crafts in Harrow – Saturday 27th July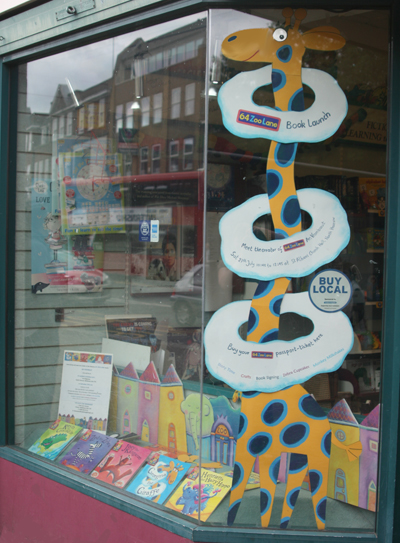 Today I fitted this 64 Zoo Lane window display at The New Leaf Bookshop in Pinner. Doesn't it look fab?  To celebrate the publication of new editions of the 64 Zoo Lane picture books I've decided to hold an event with my local independent bookshop .  Get your passport to lots of 64 Zoo Lane fun and join me  in North Harrow on Saturday 27th July.
I've  been busy printing passports….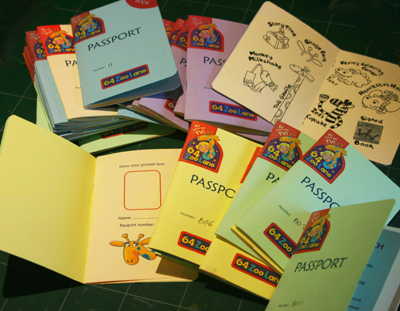 The 64 Zoo Lane passport includes:
Story time at 11:15 am and 12:15 pm
Craft activities: make giraffe or zebra ears, Henrietta's Hairdo and more
Decorate a Zebra Cupcake Activity (and you can eat it too of course!) 
A monkey milkshake  – yum yum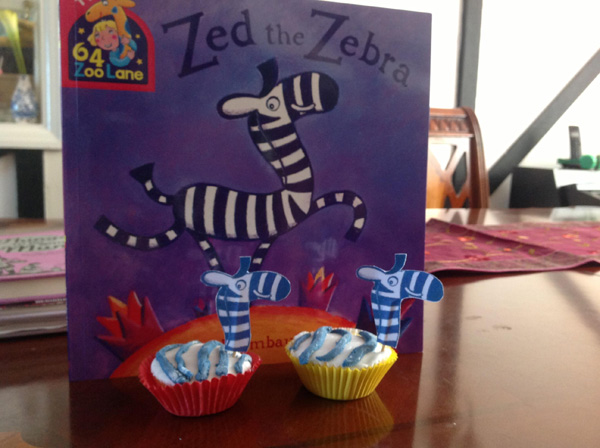 We'll also be creating  a very talllllllll  giraffe drawing. In between readings Judy fromThe New Leaf  Bookshop will be selling 64 Zoo Lane books which  I will sign and dedicate.
You can buy your 64 Zoo Lane Passport from The New Leaf  Bookshop in Pinner  www.thenewleafbookshop.com Tel: 020 8866 9116. Passports cost £5 from the shop / £6 at the event itself. Or for £10 you get a special passport which includes a signed picture book  (RRP £6.99) as well as all the activities and treats listed above. Free entry for children under 2 and adults. Coffees and teas will be available.
I hope to meet lots of 64 Zoo Lane fans. Why not come dressed up as your favourite animal? I will be wearing my giraffe ears.
SEE YOU SOON!
WHEN? Saturday 27th July from 10:45 am to 12:45 pm
WHERE? St Alban's Church Hall, The Ridgeway, North Harrow HA2 7PF

The 64 Zoo Lane books are published by Hodder Children's Books.
64 Zoo Lane book launch at Beale Park- Saturday 20th July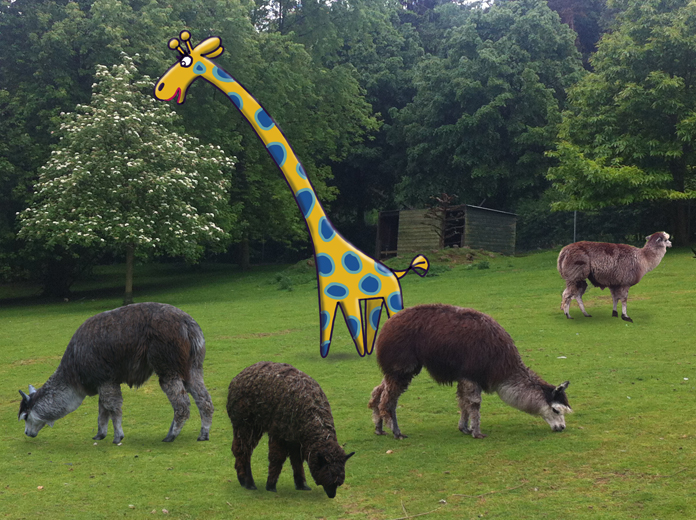 A giraffe among the alpacas? Yes, on Saturday 20th July Georgina the Giraffe from 64 Zoo Lane will be visiting picturesque Beale Park  near Pangbourne on the banks of the river Thames in Berkshire .
Come and  meet the creator of 64 Zoo Lane -that's me- and listen to  64 Zoo Lane stories at 11:00 am, 12:30 pm, 2 pm and 3:30 pm. Each reading will be followed by a drawing demonstration and craft activities. We'll even be making a giraffe who's incredibly tallllllllllllll. Readings and activities are included in the park admission fee. The Wallingford Bookshop will bring  64 Zoo Lane  books  to sell. I'll bring my special signing pen and giraffe ears along  for the occasion!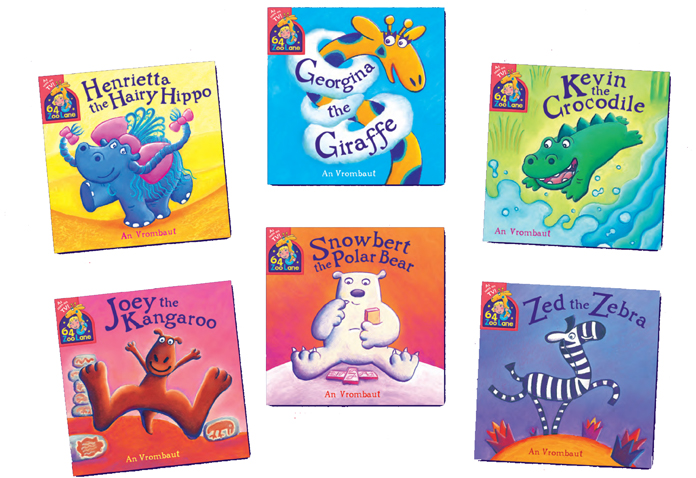 Beale Park  makes a great day out for all the family with its animals, gardens, play and activities. For information  including admission prices and directions visit www.bealepark.co.uk or email or email nell@bealepark.co.uk.
There are lots of animals to discover. Here are some of my favourites: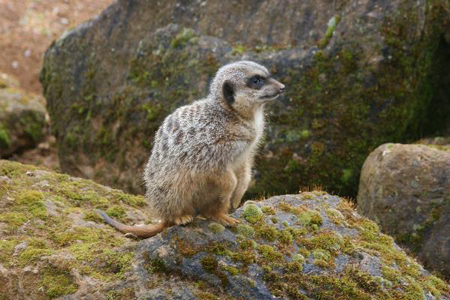 Meerkat – a real one (you'll also find yummy jelly meerkats at Beale Park)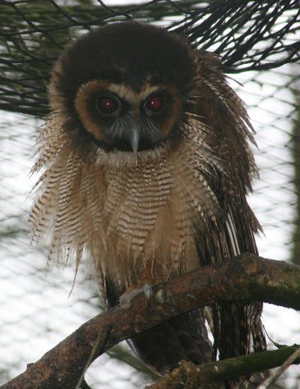 Owl- I wonder who ruffled this chap's feathers?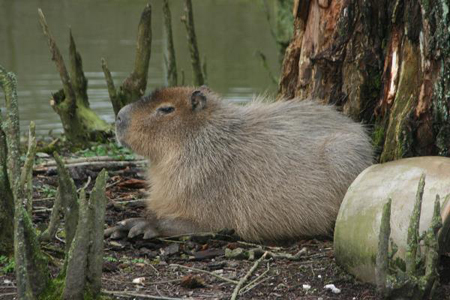 Capybara – sort of like a guinea pig but MUCH BIGGER
Beale Park has many quirky sculptures. I particularly like this buffalo one: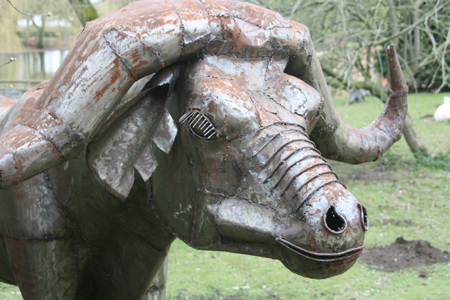 I hope to meet lots and lots of 64 Zoo Lane fans on July 20th. For regular updates follow  Beale Park's event organiser  Nellie @PeacocksPompoms on Twitter.  If you have a query please contact Nell Williams, nell@bealepark.co.uk / Tel 07827 275973
And finally, I couldn't resist drawing a rotund rodent for the occasion. So here she is: Carmen the Capybara, 64 Zoo Lane style. She's rather charming, don't you think?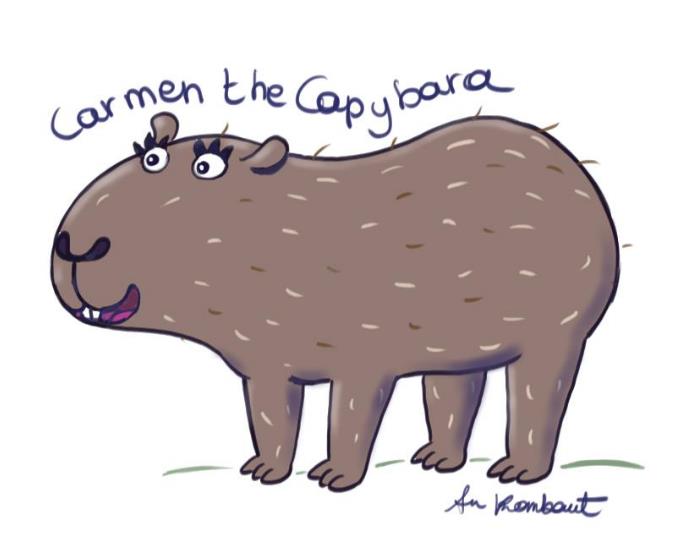 The 64 Zoo Lane picture books are published by Hodder Children's Books.