Duck Socks – Collins Big Cat phonics book
I have a new book out – hurray!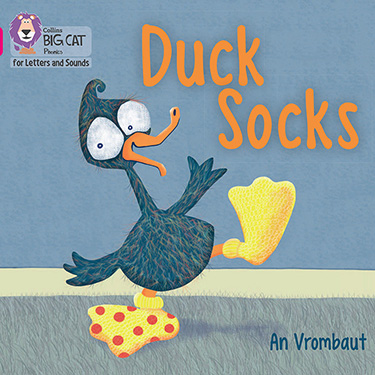 Actually, Duck Socks was published in September but I only just got round to writing a blog post.  The new title is part of the Collins Big Cat 'Chant and Chatter' strand of phonics books.
This is the first time I've written a book to a specific brief. I was asked to use only CVC words (Consonant-Vowel-Consonant words such as CAT or DOG or DIP) with the exception of words  with -S and -CK endings. There were further restrictions: Some letters were not allowed. There were rules about the word count per page and the text had to follow a certain rhythm. So all in all it was quite a challenge! Luckily, as a scriptwriter for TV animation, I'm used to working with strict limitations.  I actually believe limitations can boost creativity. So I got busy and wrote a story about a DOG and lots of HUGS. I was pleased with it.  I thought I'd followed all the rules given to me, but decided to double-check my text against the publisher's brief just to make sure…  CVC words – tick! Words ending in -CK – tick! Word count – tick! Rhythm – tick!  But then – SHOCK HORROR – I realised I'd used a 'forbidden' letter. Back to the drawing board…
This time I decided to look up lists of CVC words and words ending in -CK. These lists are used as teaching resources. I pondered of lots of ways of combing the words SACK and DUCK and ROCK and SOCK. And that's how I ended up writing a silly story about Hip and Hop, two ducks wearing dotty socks.
All the illustrations in my previous picture books were created on paper with oil pastels, but for Duck Socks I decided to work digitally using Photoshop.  A you can see from the picture below, I got a little carried away using a 'grassy' brush to suggest duck feathers!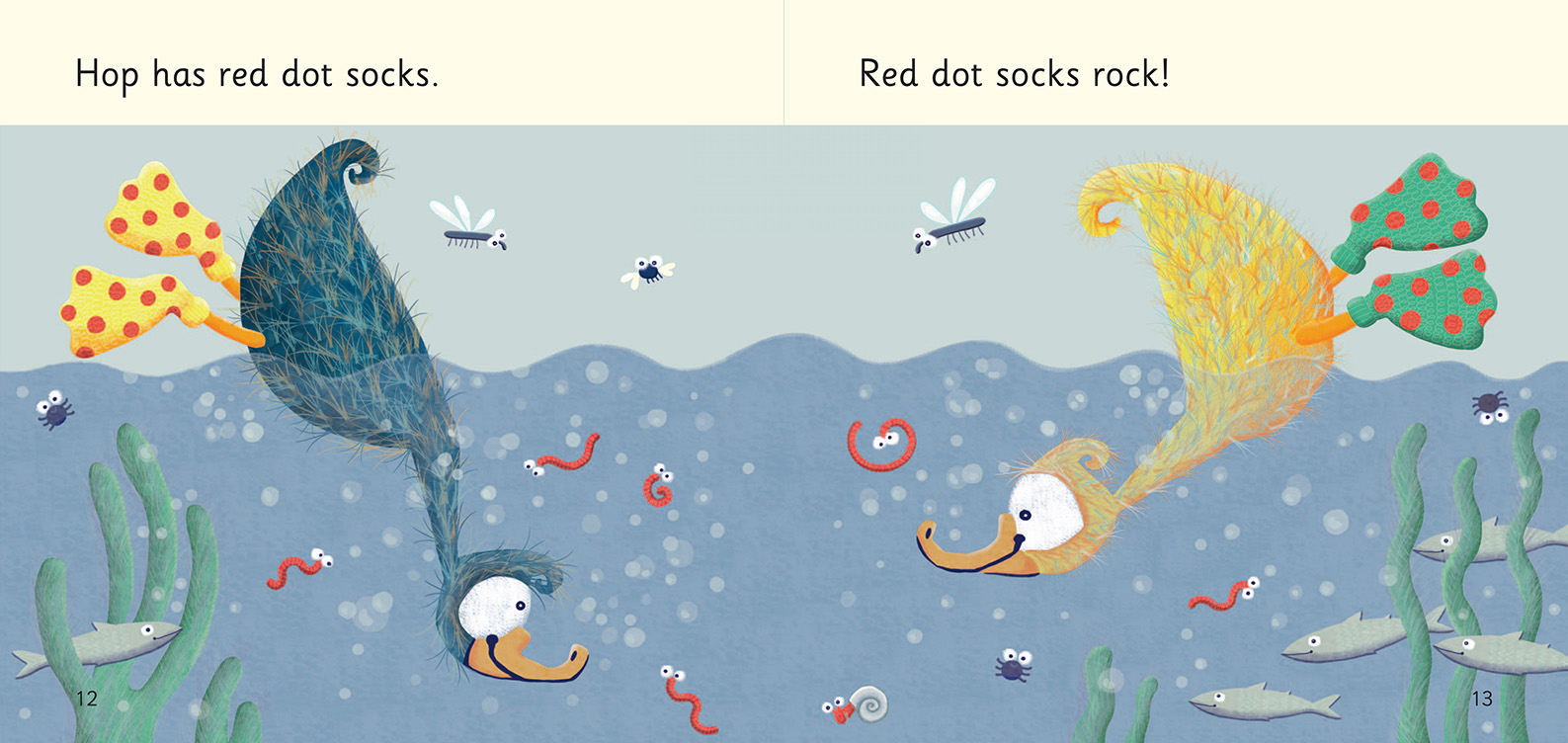 I'd like to add Duck Socks to the KS1 story session I offer at my school visits, but first I intend to knit a few larger pairs of these cute little baby socks to use as props ( knitting pattern from curious knitter ).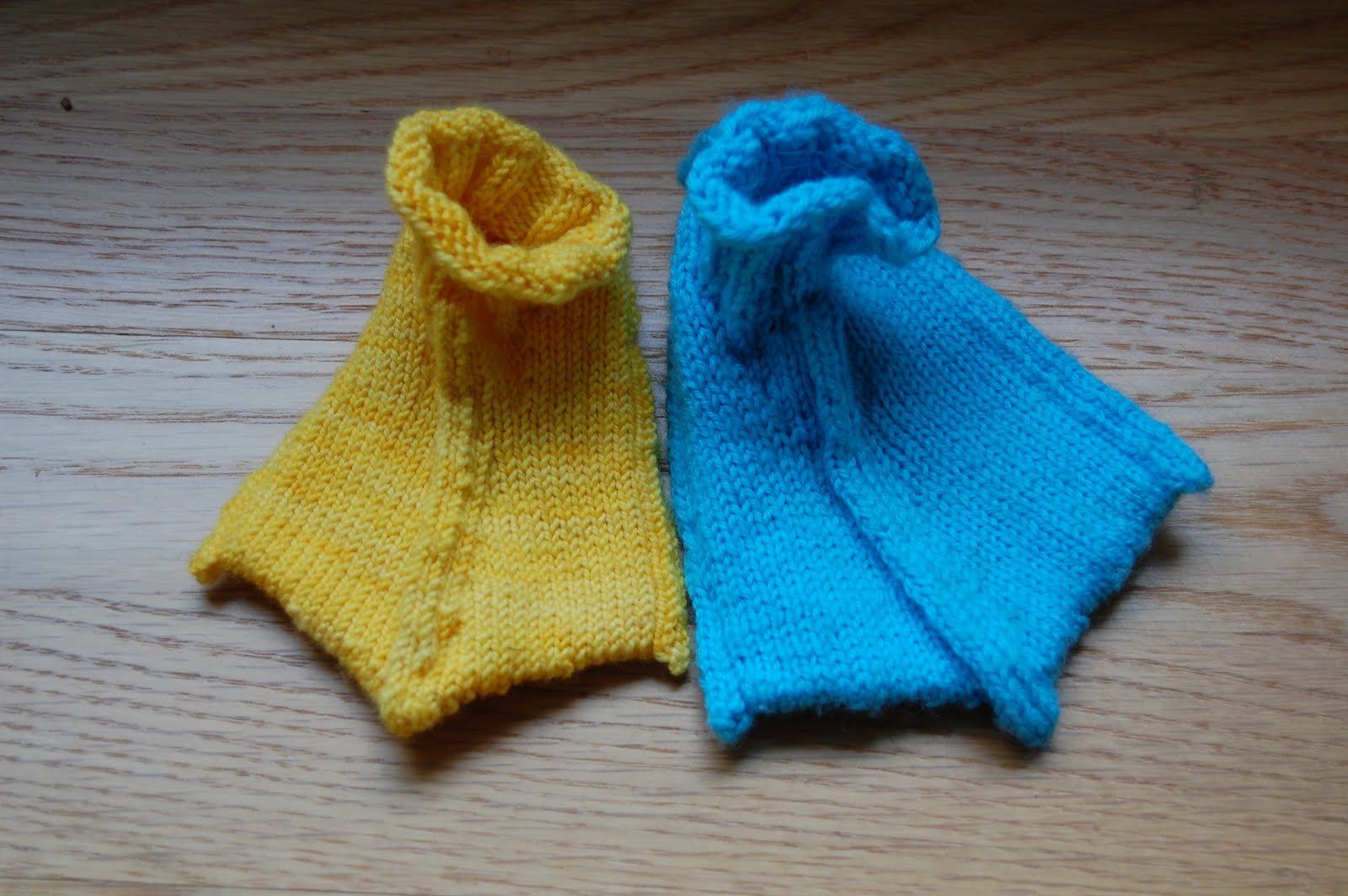 Duck Socks is part of the Collins Big Cat 'Chant and Chatter' strand of phonics books. Pink B/Band 1B offers emergent readers simple, predictable text with familiar objects and actions. Ideas for reading in the back of the book provide practical support and stimulating activities.
Published by Collins Big Cat ISBN-13: 978-0008230180
Available online from Amazon or Waterstones or order from your local independent book shop.