64 Zoo Lane story time and crafts in Harrow – Saturday 27th July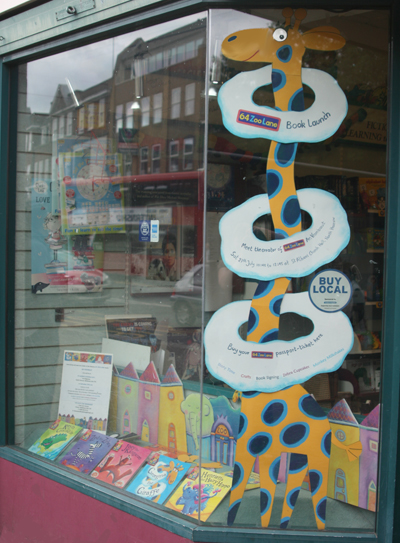 Today I fitted this 64 Zoo Lane window display at The New Leaf Bookshop in Pinner. Doesn't it look fab?  To celebrate the publication of new editions of the 64 Zoo Lane picture books I've decided to hold an event with my local independent bookshop .  Get your passport to lots of 64 Zoo Lane fun and join me  in North Harrow on Saturday 27th July.
I've  been busy printing passports….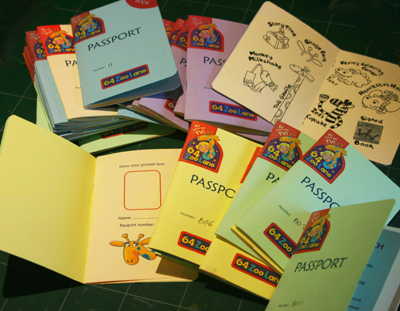 The 64 Zoo Lane passport includes:
Story time at 11:15 am and 12:15 pm
Craft activities: make giraffe or zebra ears, Henrietta's Hairdo and more
Decorate a Zebra Cupcake Activity (and you can eat it too of course!) 
A monkey milkshake  – yum yum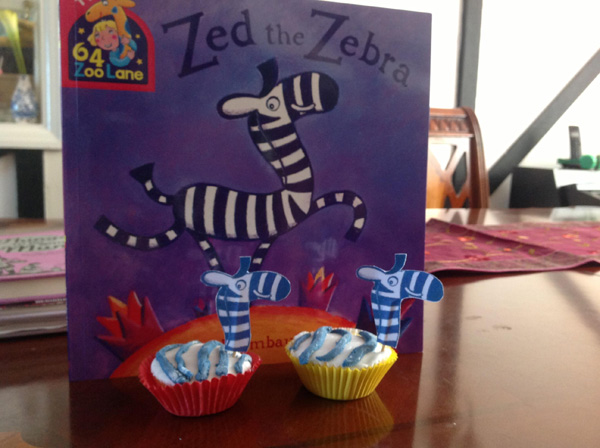 We'll also be creating  a very talllllllll  giraffe drawing. In between readings Judy fromThe New Leaf  Bookshop will be selling 64 Zoo Lane books which  I will sign and dedicate.
You can buy your 64 Zoo Lane Passport from The New Leaf  Bookshop in Pinner  www.thenewleafbookshop.com Tel: 020 8866 9116. Passports cost £5 from the shop / £6 at the event itself. Or for £10 you get a special passport which includes a signed picture book  (RRP £6.99) as well as all the activities and treats listed above. Free entry for children under 2 and adults. Coffees and teas will be available.
I hope to meet lots of 64 Zoo Lane fans. Why not come dressed up as your favourite animal? I will be wearing my giraffe ears.
SEE YOU SOON!
WHEN? Saturday 27th July from 10:45 am to 12:45 pm
WHERE? St Alban's Church Hall, The Ridgeway, North Harrow HA2 7PF

The 64 Zoo Lane books are published by Hodder Children's Books.
64 Zoo Lane book launch at Beale Park- Saturday 20th July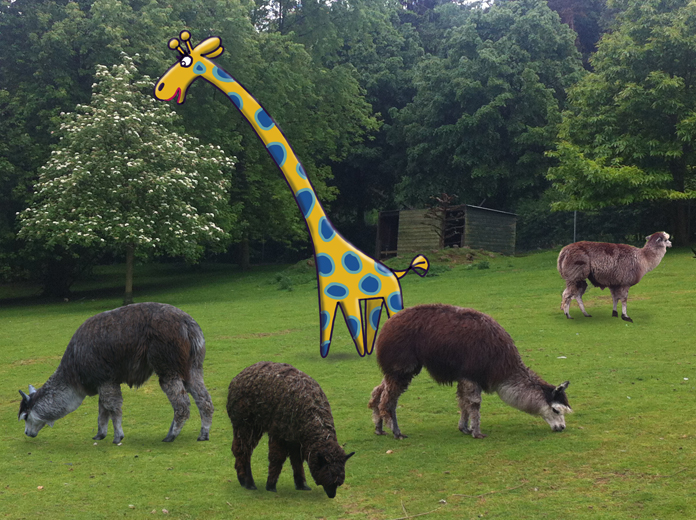 A giraffe among the alpacas? Yes, on Saturday 20th July Georgina the Giraffe from 64 Zoo Lane will be visiting picturesque Beale Park  near Pangbourne on the banks of the river Thames in Berkshire .
Come and  meet the creator of 64 Zoo Lane -that's me- and listen to  64 Zoo Lane stories at 11:00 am, 12:30 pm, 2 pm and 3:30 pm. Each reading will be followed by a drawing demonstration and craft activities. We'll even be making a giraffe who's incredibly tallllllllllllll. Readings and activities are included in the park admission fee. The Wallingford Bookshop will bring  64 Zoo Lane  books  to sell. I'll bring my special signing pen and giraffe ears along  for the occasion!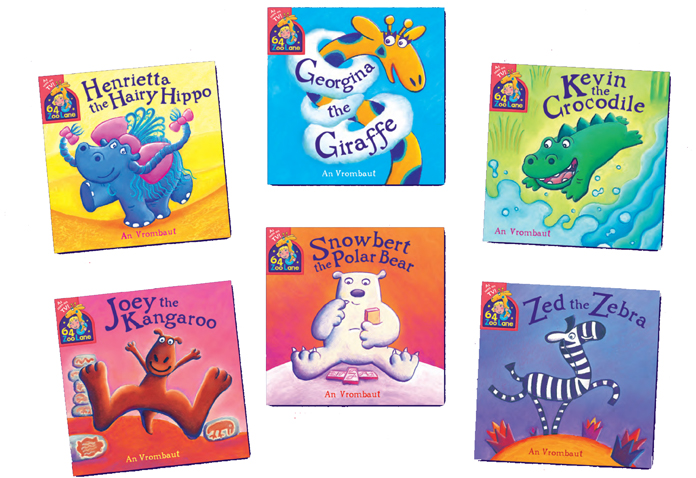 Beale Park  makes a great day out for all the family with its animals, gardens, play and activities. For information  including admission prices and directions visit www.bealepark.co.uk or email or email nell@bealepark.co.uk.
There are lots of animals to discover. Here are some of my favourites: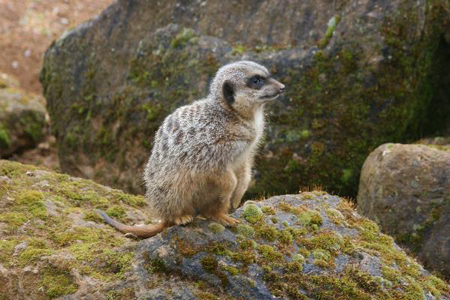 Meerkat – a real one (you'll also find yummy jelly meerkats at Beale Park)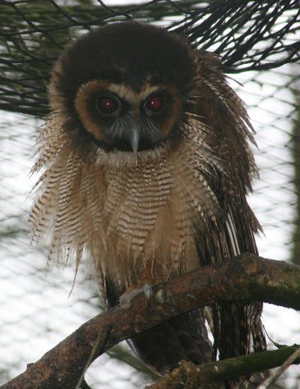 Owl- I wonder who ruffled this chap's feathers?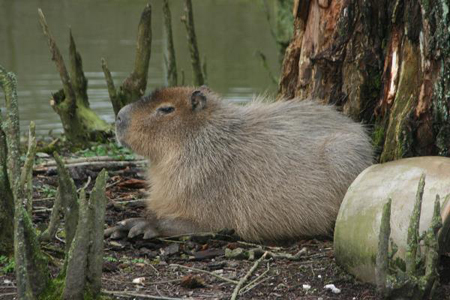 Capybara – sort of like a guinea pig but MUCH BIGGER
Beale Park has many quirky sculptures. I particularly like this buffalo one: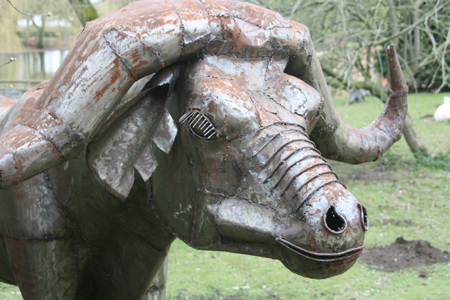 I hope to meet lots and lots of 64 Zoo Lane fans on July 20th. For regular updates follow  Beale Park's event organiser  Nellie @PeacocksPompoms on Twitter.  If you have a query please contact Nell Williams, nell@bealepark.co.uk / Tel 07827 275973
And finally, I couldn't resist drawing a rotund rodent for the occasion. So here she is: Carmen the Capybara, 64 Zoo Lane style. She's rather charming, don't you think?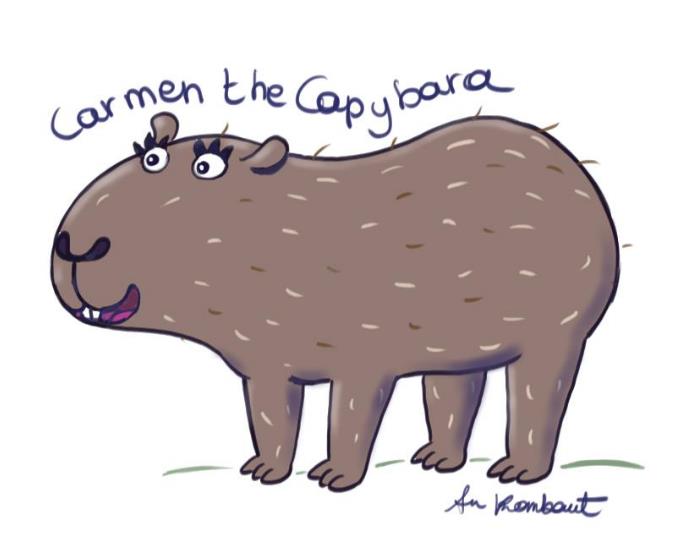 The 64 Zoo Lane picture books are published by Hodder Children's Books.
Win signed 64 Zoo Lane books – A Giraffy Art competition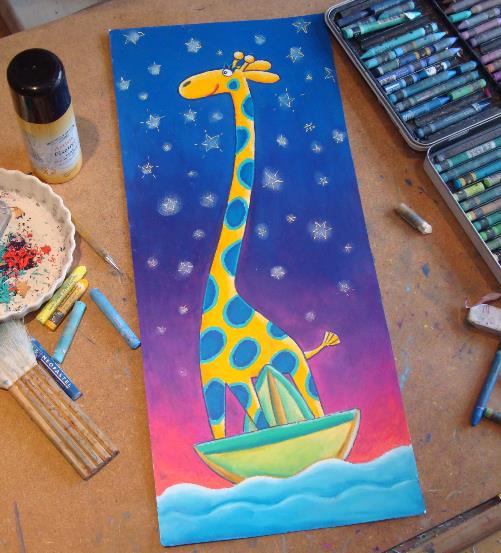 The 64 Zoo Lane picture books are published this month.  To celebrate, I am running a giraffy art competition. This is how to enter:  Draw, paint or model a giraffe, then email a picture of your art to me with your first name,  email address and age. I know  64 Zoo Lane has fans of all ages, so I've decided to open  the competition up to anyone -young and old-  in the UK. There is a prize for each  age category and an overall Grand Prize.
*drum roll* Grand Prize
 A set of six signed 64 Zoo Lane books – yep, 6 books signed and dedicated by the author/illustrator. I'll even add a sketch of the characters.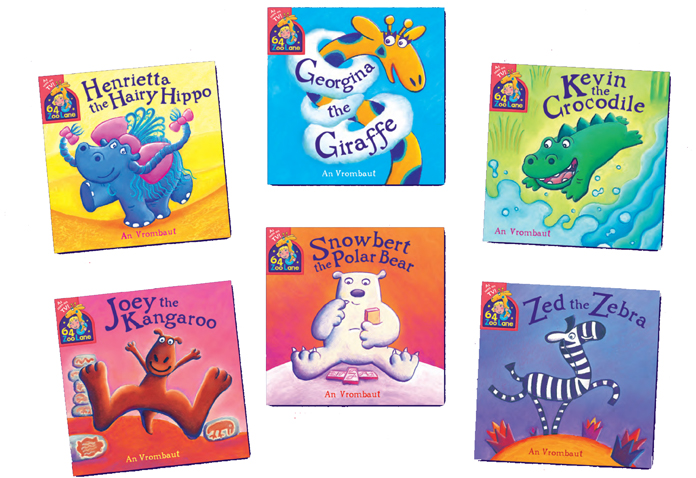 Category prizes (0-5 , 6-12 , 13 and up)
A signed 64 Zoo Lane book of your choice
And best of all,  all entries will be displayed in the world-renowned  Giraffe Gallery.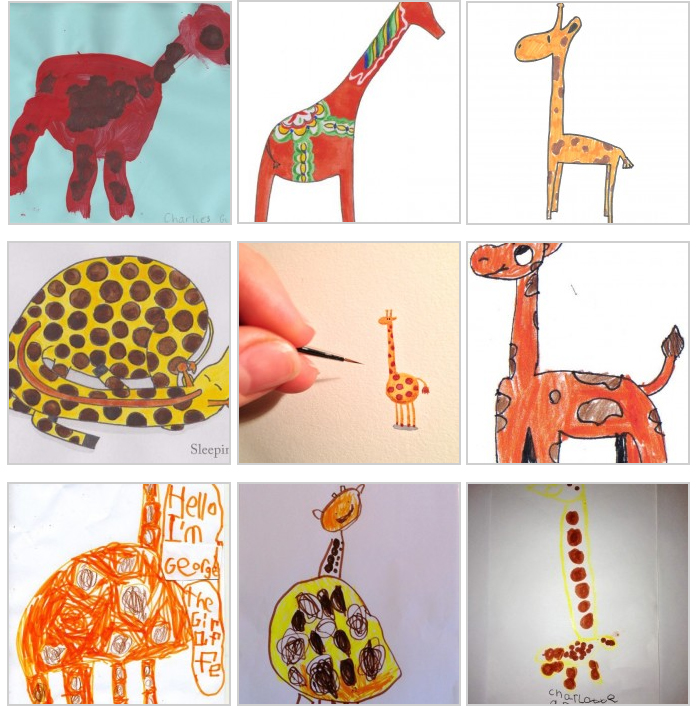 Good luck!
Competition Rules:
1) Entry open to any UK resident. Age categories: 5 and under / 6 to 12 / 13 and up.
2) Closing date 4th August 2013
3) The winners will be announced on 2nd September 2013.
4) Any art technique is allowed: drawing, painting, collage, modelling, computer graphics etc. Entries must be your own work.
5) Email a picture of your art to me with your first name, contact email address and age.
6) Email addresses will  be used only to contact  the winners.
7) All entries will be displayed in the Giraffe Gallery using entrants' first names as a caption. Entries may also be displayed on Twitter , Facebook and Pinterest
8) Grand Prize: set of six signed 64 Zoo Lane picture books , category prizes: one signed 64 Zoo Lane book of your choice for each category
64 Zoo Lane picture books – out now!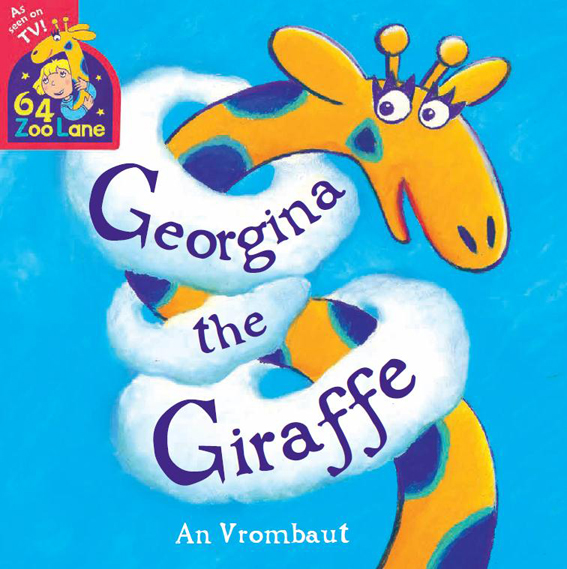 Hurray, it's publication day!
The six 64 Zoo Lane books , reissued by Hodder Children's Books, come  with new covers, a message from me to the readers and a page with  lyrics of the song  – 64, 64, 64  Zoo Lane …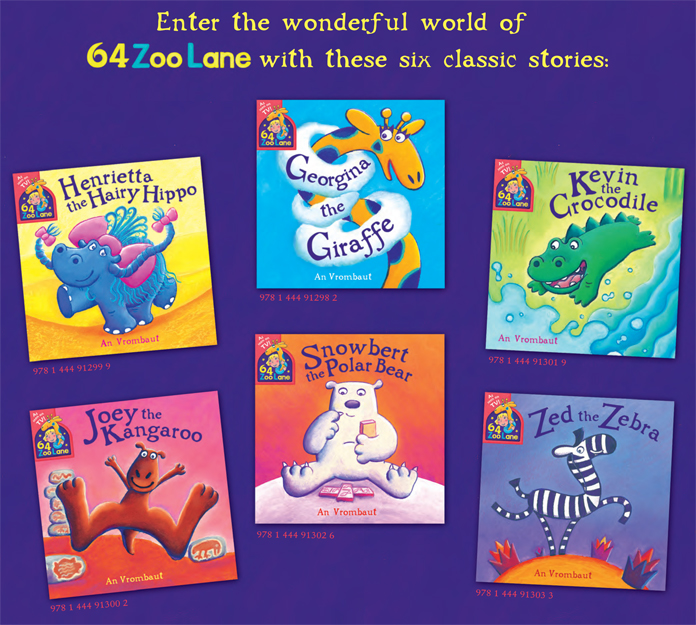 Lucy lives at 64 Zoo Lane, right next door to the zoo. Every night  she climbs out of her bedroom window, slides down the long long neck of Georgina the Giraffe and listens to one of the animals tell her a story…
The stories are  based on episodes of the TV series. It's hard to believe, but this year it has been 20 years since I came up with the concept for 64 Zoo Lane (see my previous blog post 64 Zoo Lane- A sort-of-anniversary).
Like all authors and illustrators, I'm often asked where I get inspiration from. As a child I grew up in a house full of animals. We kept dogs, rabbits, guinea pigs, chickens, tortoises and even stick insects. So it's no surprise that as an author I turned to animals for inspiration. I imagined what it would be like to live next door to a zoo … and started writing stories about giraffes, hippos, zebras, crocodiles, polar bears and kangaroos.
I thoroughly enjoyed writing  and illustrating the books. Here's a selection of oil pastel illustrations: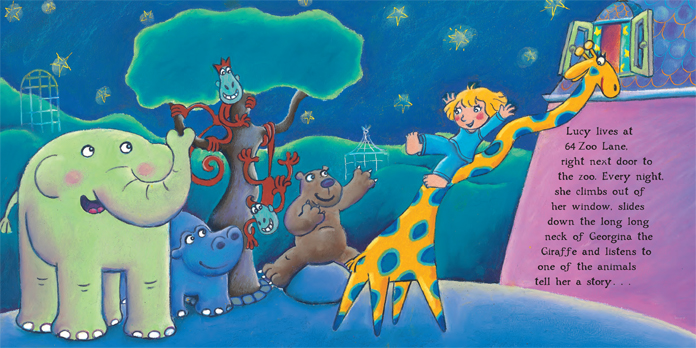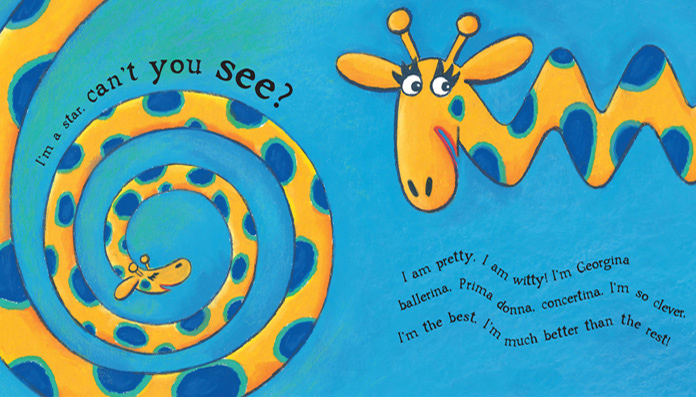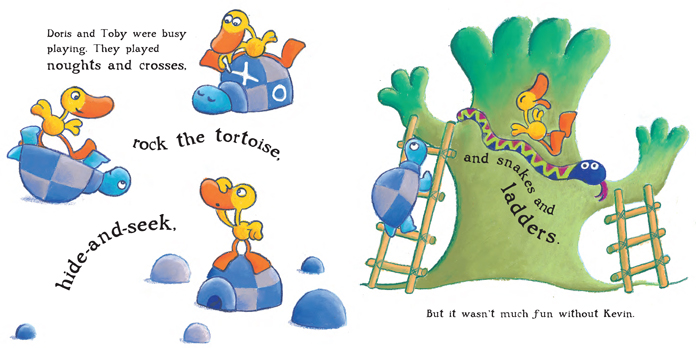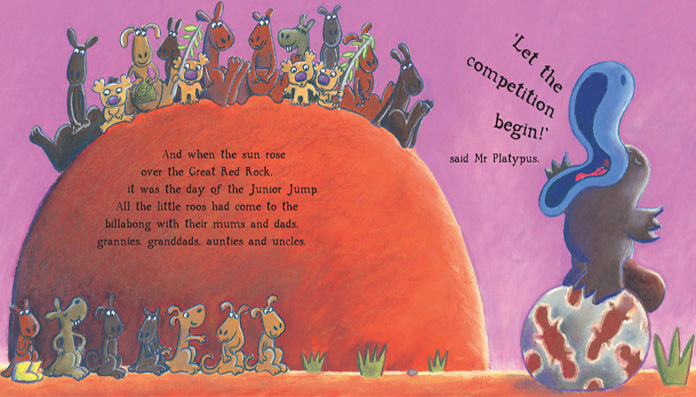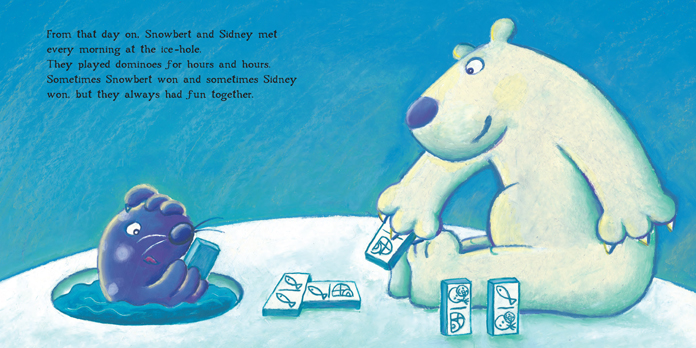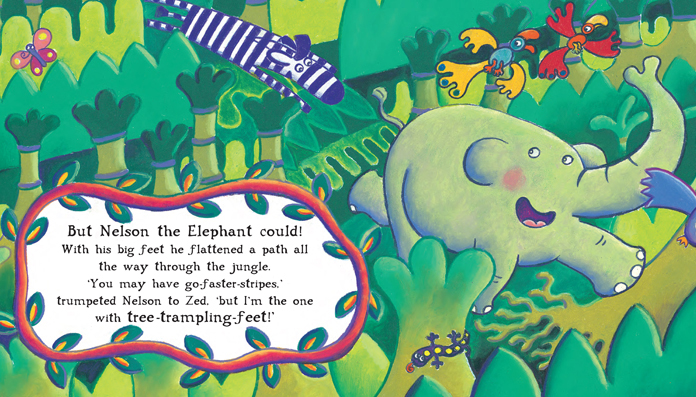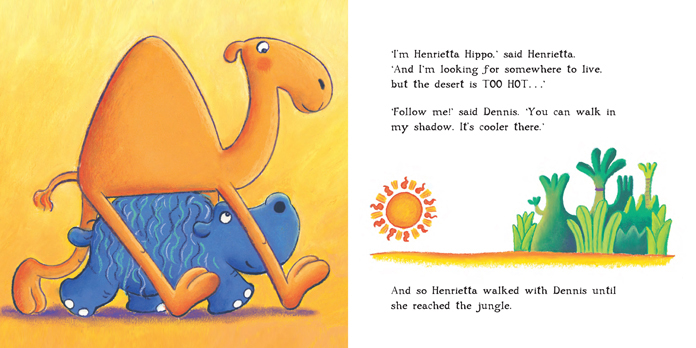 I will soon announce competitions and give details  of events including one at Beale Park in Berkshire on Saturday 20th July and another in Harrow on Saturday 27th July. In the meantime check out these 64 Zoo Lane colouring pages.
To keep updated on all 64 Zoo Lane book events follow either myself  @AnVrombaut or Georgina the Giraffe @Georgina646464 on Twitter, or like my page on Facebook.
Happy reading!
Georgina the Giraffe ISBN 978 1 444 91298 2
Zed the Zebra ISBN 978 1 444 91303 3
Snowbert the Polar Bear ISBN 978 1 444 91302 6
Kevin the Crocodile ISBN  978 1 444 9301 9
Henrietta the Hairy Hippo ISBN 978 1 444 91299 9
Joey the Kangaroo ISBN 978 1 444 91300 2