A few favourite animal films
In my last blog post I wrote about the traditional animal stories which inspired me to create 64 Zoo Lane. It is not just books that influenced me though…
Here are a few of my favourite films and TV programmes featuring animals. Some are very well-known and others obscure. First, two animated shorts I was introduced to when I was a student:
Caroline Leaf 's tragic 'The Owl who married a Goose'.  This film was  animated using sand on glass.
Yuri Norstein's atmospheric 'Hedgehog in the Fog'. This is a slow, absorbing film, a simple tale masterly told.  I also love Norstein's 'Tale of Tales' which features a wolf cub.
The Jungle Book is one of my all-time favourite Disney features.  This is the  Kaa hypnosis scene.
The Lion King  was released at around the same time I started work on the pilot episode of 64 Zoo Lane.  Suddenly, savannah animals were 'in'.  This is one of  the few films I have seen three times on the big screen. My daughter likes to do a 'Simba' with our geriatric cat. This involves holding the cat aloft while singing  "Ingonyama nengw' enamabala".
And finally, a Dutch language clip of a pre-school TV programme I used to watch every evening as a young child in Belgium: De Fabeltjeskrant 'The Fables Times'.
There is no doubt this programme influenced me. The storytelling format of fables is similar to that of 64 Zoo Lane. However, I was not my favourite programme when I was a child; that honour must go to Colargol.  And as an adult I still feel ambiguous about  De Fabeltjeskrant; I  find the morals rather overpowering.
64 Zoo Lane- A sort-of-anniversary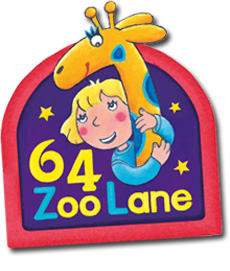 64 Zoo Lane turns 20 this month.  TWENTY?  Well yes, sort of …
Lucy and her menagerie have been on TV since 2000 – so that's just over 13 years.  However,  I created the concept seven years earlier in 1993 when I was  a student at the Royal College of Art.  I had just completed my graduation Little Wolf  (music by Rowland Lee who went on to write the music for 64 Zoo Lane).  I knew  I wanted make children's TV, so I started thinking of an idea for an animated series…
There were two things I was sure of from the start:
Firstly, my TV series would have animals in it.  I grew up in a household with lots of pets, so animals are what I enjoy drawing the most.  Here's a drawing of a tortoise I did when I was five. Can you see the resemblance with Toby from 64 Zoo Lane?

And secondly, this series had be something that would really engage me .  The idea of doing 26 episodes with the same characters and settings terrified me slightly. What if I got bored after episode number 3? I needed to come up with a concept that would keep me captivated , a format I could expand on… So I decided to include lots of animal characters  that live in different environments.
A zoo was the first thing that came to my mind. I took inspiration from Antwerp  zoo in Belgium which I visited regularly as a child. It's in the middle of the city right next to the central railway station.
Then I got the  idea of a girl living next door at number 64.   Each night Lucy would make a clandestine visit to the zoo via the long neck of Georgina the giraffe and one of the  animals would tell her a bed time story.
My original plan was to use traditional animal stories. I started by researching Aesop's fables.   I recently discovered these excellent  BBC School Radio recordings of Aesop's tales  (narrated by Richard Briers, Jane Horrocks, Alison Steadman and others).
I  read Rudyard Kipling's Just So Stories before moving on to Inuit raven legends, the traditional African tales of Anansi the Spider and  the mischief maker Nogwaja the Hare and the Igbo story of the flying tortoise.
However, the more animal stories I discovered, the more I realised how difficult it would be to re-use characters from one story into another. So I abandoned the plan of using  characters from traditional tales and decided to create my own instead. I wanted my characters to be like real people : Each would have its  flaws and obsessions, and each would relate to the others as if they were members of one large extended family.  I started to write stories about  a giraffe with a very long neck. A little crocodile who  can't help being cute. A zebra with go-faster stripes. A kangaroo who can't jump. A lonely polar bear. A hairy hippo. And of course many more… I couldn't possibly write all 64 Zoo Lane stories myself so I work with a small team of talented script writers. It's great fun!
We're up to episode 104 now.  Thankfully I'm still not bored with it and  neither are the writers, voice artists, story-board artists, composer etc.
So  Happy 20th  Anniversary to 64 Zoo Lane!  (And also to Lucy who's forever 7)
Series 4 of 64 Zoo Lane is currently showing on  CBeebies Sunday to Thursday at 18:10.  
Watch  episodes on the iPlayer  (UK only)
Welcome to my website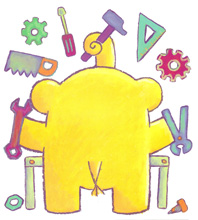 Construction is completed: All that hammering, sawing, chiseling and chamfering done. All the debris cleared and the dust sucked up by a yellow elephant.
Have a browse around the site:  Read all about my childhood menagerie, print some colouring pages and visit the world famous Giraffe Gallery . Or why not grab a bag of popcorn and watch my short films? Let me know what you think. I'm on Twitter and on Facebook.
A big thank you to Neil and Valeria at Alternative View Studios for planning, joinery and final polish of my site (my granddad was a carpenter, in case you're starting to wonder). And thank you also to everyone who tested the site.